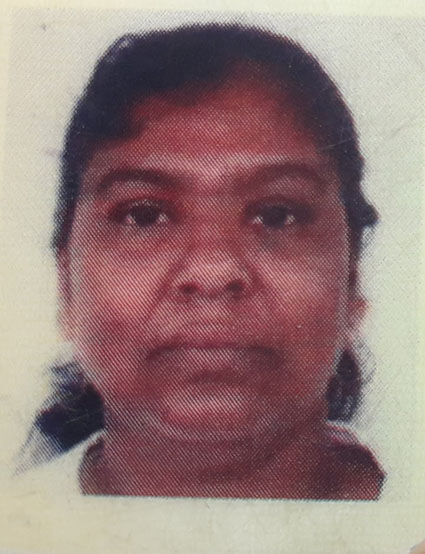 A 52-year-old Crabwood Creek accountant yesterday morning died while returning home from the Cheddi Jagan International Airport, after the car she was travelling in slammed into a parked truck along the Number 58 Village, Corentyne Public Road.
The dead woman, Soorojnie Surjraj, the accountant at a nearby gas station and of Lot 13 Section 'A' Grant 1805 Crabwood Creek reportedly died on the spot, while her daughter, Bomika Neha Sukhra, 15, and her mother, Khemnie Chanchal, 70,  were rushed to the Skeldon Public Hospital. Sukhra, who sustained minor head injuries and other injuries about her body has since been admitted, while Chanchal who sustained a broken leg has been transferred to the New Amsterdam Public Hospital.
According to eyewitnesses, the driver of the car, HC 2217 reportedly fell asleep and slammed into the back of the parked lorry, GMM 9207 along the public road sometime around 7 am yesterday. 
An eyewitness, Babita Sanu yesterday told Stabroek News that the woman who died was seated in the backseat with her mother, while her teenaged daughter was in the front passenger seat.
The eyewitness also relayed that the driver after exiting the car stated to those gathered that he had fallen asleep. "The driver say he feel sleepy and he sleep way". She added, "He tell abie how he stop at (Number) 19 and wash he face cause he tell them he feel sleepy and them say let he drive only piece more left".
Meanwhile, brother of the deceased, Vajendira Surjraj, 45, said his niece called him and told him that they had been involved in an accident yesterday morning, after which he rushed to the scene. He said his sister suffered horrific injuries.
The man relayed, that the trio left home on Sunday  around 6 pm to drop another one of his sisters at the airport who had been visiting their sickly mother, Chanchal, in Guyana. He recalled, as he broke into tears, "The last me see me sister (deceased) was Sunday afternoon we hug up and take pictures and me other sister say she ain't know when she gone come back and see we and not knowing me sister go dead".
Meanwhile, the man also expressed his disappointment at nurses at the Skeldon Public Hospital, who he said need training on how to deal with bereaved relatives. "When I go hospital I was in shock and me finding out about me sister them, them holla pon me how hard, hard, I didn't even get to see me mother before she get transfer them chase me out, suppose me mother dead now and been want tell me something, they need to know how to speak with relatives when we go there", he insisted.
Meanwhile, the driver of car is in police custody assisting with the investigation. According to a police source, he sustained minor injuries and was treated at the Skeldon Public Hospital and sent away yesterday morning.
Meanwhile, residents of the Upper Corentyne Area are calling on the relevant authorities to look into vehicles being parked along the Corentyne roadway. The residents have spoken out about the issue in the past. However, much has never been done. One resident, Harinarine Persaud said. "If the truck na been park there maybe the man would a end up in the drain and nobody na would a die, people always talking how them vehicle this on the road dangerous and nobody na do nothing, but people got to dead till them look into it".
Around the Web