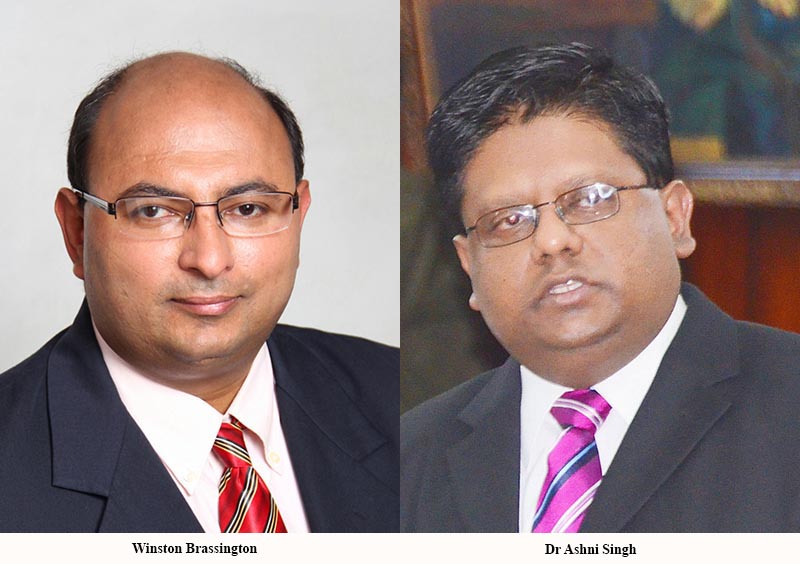 Director of Public Prosecutions (DPP) Shalimar Ali-Hack has been asked to review and possibly discontinue the charges laid against former Finance Minister Dr Ashni Singh and former head of the National Industrial and Commercial Investments Limited (NICIL) Winston Brassington.
Former Attorney General Anil Nandlall, who is representing the two men, wrote Ali-Hack yesterday to request the review.  His request is the first step in legally challenging the charges of "misconduct in public office contrary to common law" that were laid against the two men last week.
"I am just giving her an opportunity to exercise her review powers. I am not sure if she was consulted on this case since SOCU [Special Organised Crime Unit] does not always operate in concert with the DPP but the intention, if a favourable response is not received, is to challenge the charges in the High Court," Nandlall told Stabroek News.
In his letter to Ali-Hack, which was seen by this newspaper, Nandlall asked for a review of the charges for the purpose of "specifically considering whether the particulars of the offences disclosed any offence at law, more particularly, the offences for which the accused persons have been charged and if not, I further invite you to consider exercising the powers vested in your office by Article 187 of the Constitution of the Co-operative Republic of Guyana and to discontinue the said charges, forthwith."
He further called on Ali-Hack to exercise her office's "constitutional responsibility to protect the citizenry against the institution of criminal charges that are based upon malice, mala fides, ulterior or sinister motives and vendetta and/or from charges that can reasonably yield a lawful conviction."
Nandlall has previously told the media that the charges cannot hold up in court, while warning that lawsuits will be filed over the character damage that has been done.
Last Thursday, he argued that the laying of the charges is nothing more than another spate of witch-hunting where "the criminal justice system is being used as a political weapon by those in the government to persecute political opponents."
"We will decide how we move forward but I have to inquire and advise myself as to whether there is a charge called 'misconduct in public office contrary to common law.' …You would note that they were not able to find a statutory provision under the criminal laws of this country, so they resorted to some nebulous concept, allegedly existing at common law, upon which they predicated these charges," Nandlall said during an interview with the media shortly after Singh and Brassington were charged in absentia.
Singh and Brassington were jointly charged with three counts of misconduct in public office over the sale of three tracts of government land on the East Coast of Demerara, between December, 2008 and May, 2011. In one instance, it is alleged that the property was sold below market value, while in the other two the deals went ahead without proper valuations of the land.
The charges stem from criminal investigations conducted by SOCU into the findings of a forensic audit of NICIL.
It is alleged that Singh and Brassington sold a tract of land, being 4.7 acres at Plantation Liliendaal, East Coast Demerara, which was the property of Guyana, for the sum of $150 million to Scady Business Corporation, while knowing that the property was valued at $340 million by Rodrigues Architects Limited.
It is also alleged that by way of agreement of sale and purchase, they acted recklessly when they sold a tract of land, which was a portion of Plantation Liliendaal, Pattensen and Turkeyen, East Coast Demerara, being 103.88 acres, to National Hardware Guyana Limited for $598,659,398 (VAT exclusive), without having a valuation of the property from a competent valuation officer.
It was also alleged that they acted recklessly when they sold a 10-acre tract of land at Plantation Turkeyen, which was the property of Guyana, for the sum of $185,037,000 to Multicinemas Guyana Inc, without procuring a valuation of the said property from a competent valuation officer.
The matters are expected to come up again before Chief Magistrate Ann McLennan on May 7th.
Around the Web