Taxi driver Steve Hercules, who was held with five others after an attempted break-in at Supply, East Bank Demerara last Tuesday evening, was yesterday sentenced to a total of eight years in jail after he took responsibility for the guns and matching ammunition found in their vehicle.
Four charges for unlawful possession of firearms and four charges for unlawful possession of ammunition were read to Hercules, 30, of Sisters Village, West Bank Demerara; Mark Prince, 39, a taxi driver of Lot 22 La Parfaite Harmonie; Nabadingi Gobin, 34, a trader of Charlotte Street, Georgetown; Renhart Khan, 31, a fish vendor of Cooper Street, Albouystown; Edward Skeete, 30, a trader of Independence Boulevard, Albouystown, and Mervin Blackman, 27, a fish vendor of Lot 89 Daisy Street, South Ruimveldt, Georgetown, who appeared before Magistrate Sunil Scarce at the Providence Magistrate's Court yesterday.
The six men were charged with unlawfully having two 9 mm Glock pistols, a .32 Taurus pistol, and a 9 mm Berretta pistol on April 10th, at the Grove Public Road, East Bank Demerara, without being the holders of firearm licences.
Hercules pleaded guilty to the four gun charges, while the other five men pleaded not guilty.
They were also charged with three counts of having unlawful possession of 11 live 9mm rounds of ammunition and another count of having unlawful possession of six live .32 rounds of ammunition, all without being the holders of licensed firearms.
Once again, Hercules pleaded guilty to the four charges, while his co-accused pleaded not guilty.
Hercules was also read a separate charge which stated that on April 10th, at Grove Public Road, he fraudulently inscribed identification number HC 4543 on a silver grey Premio, which was registered as PVV 6204.
He denied the allegation.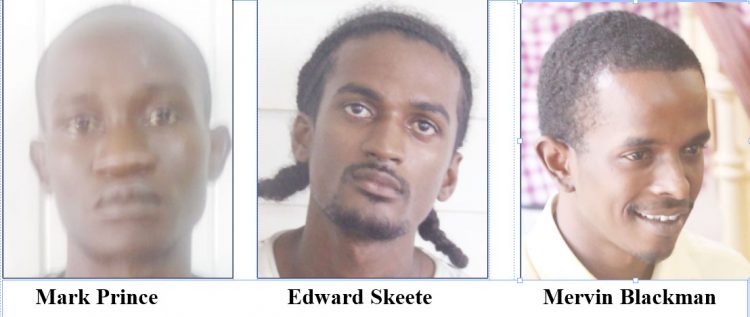 Another charge was read to the remaining five accused, who were alleged to have conspired with Hercules to change identification mark or number PVV 6204 to HC 4543 on April 10th, at Grove Public Road.
They denied the charge.
A charge of attempting to commit a felony—stemming from the attempt to break into the property of poultry farmer Michael Chang Yuen, 69—was also before the court for the defendants. However, the charge was not read as the rank who was supposed to swear to the information was not present.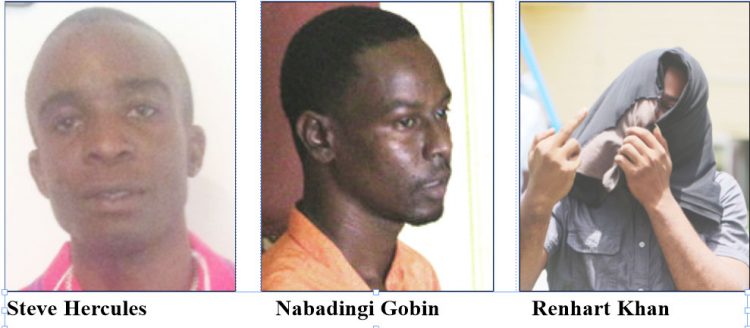 Additionally, in the courtroom of Chief Magistrate Ann McLennan, Khan was read a charge which stated that, on May 20th, 2017 at Craig, East Bank Demerara, armed with a gun, he robbed Dai Zhung of a minibus valued at $2,300,000, fish glue valued at $25,000,000, three cellphones valued at $260,000 and $500,000 in cash, all having a total value $28,760,000.
He was not required to enter a plea to the charge.
Khan will make his next court appearance for this matter on April 24th.
Bound by the consequences
After Hercules' guilty pleas, Police Prosecutor Adduni Inniss told Magistrate Scarce that at about 7.20 pm last Tuesday, HC 4543, of which Hercules was the driver, was stopped on the Grove Public Road. A search was conducted and the guns and matching ammunition were found under the driver's seat.
Hercules, however, told the court a different story. According to him, he received a call from someone known as "Chris," who would usually give him work. He went on to tell the court that Chris called and explained that he wanted a car to be brought from Soesdyke to town and that he would pay him $50,000 to do the job. Hercules noted that he accepted the work and went to Soesdyke, where he checked the "items." He added that he decided to pick up a couple of passengers to cover him while he was coming down from Soesdyke. He said that the first two persons he picked up were drunk, so he took one of the "items" out and put it under his seat. He then picked up two others persons and then one more. At the Grove Station, Hercules said, that he was stopped and arrested and a search was conducted on the vehicle and the "items" were found. He was then taken into custody and he told the officers the "items" belonged to him.
Asked by Magistrate Scarce what "items" he was referring to, Hercules stated that he was referring to the guns and ammunition.
Attorney George Thomas, who represented Hercules, noted in mitigation that the accused, who would have pleaded guilty to all the firearm and ammunition charges, had no pending matters and would have pleaded guilty at the first opportunity he received.  He suggested that the magistrate consider handing down the minimum sentence of a year in prison to Hercules, whom he noted was the sole breadwinner for his family.
Thomas, who also represented the other five men, requested reasonable bail on their behalf. The attorney noted that Blackman has pending matters of armed robbery before the courts as did Prince and Khan. He added that while Gobin and Skeete had previous matters, only Gobin was convicted.
Thomas went on to state that his clients ought to be granted reasonable bail since they would have joined the vehicle of Hercules without the knowledge that the guns and ammunition were in it. The attorney further stated that there was no meeting of the defendants so as to indicate that they conspired with each other. He added that his clients would be willing to abide by any conditions set out by the court to ensure their return.
Bail for the remaining men was, however, objected to by the prosecutor, who indicated that the matter against the accused stemmed from a robbery.
Magistrate Scarce later told the attorney that the fact that some of his clients have other pending matters and attend court for those matters would not be considered special reasons for bail. He then remanded the men to prison and adjourned the matters until May 10th. The defendants are, however, expected to return to court on April 20th, when the charge for allegedly attempting to commit a felony is expected to be read against them.
Prior to sentencing Hercules, Magistrate Scarce noted the fact that the accused had no prior brushes with the law and his early guilty plea. He also noted, however, that the accused made a deliberate decision to assume control over the guns and ammunition and was aware of the large quantity. The magistrate added that Hercules was bound by the consequences of his actions and that there's a need to prohibit others from committing the offences. Additionally, he noted that he was not of the belief that a minimum sentence would serve justice.
As a result, the magistrate sentenced Hercules to four years in jail on each of the four firearm charges, with a total fine of $400,000. However, the sentences will run concurrently, and as a result Hercules will only serve four years in jail for the four charges.
Hercules was also sentenced to four years in jail for each ammunition charge and a total fine of $400,000, with the sentences to run concurrently.
Magistrate Scarce, however, said that the two sets of sentences would be served consecutively, resulting in Hercules serving a total of eight years in jail. His total fine is $800,000.
Around the Web