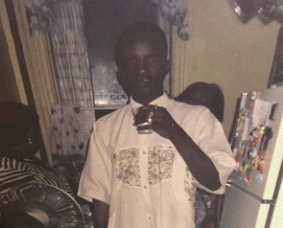 A US-based Guyanese, who became paralysed after being shot on the West Coast of Demerara in 2016, was stabbed to death on Tuesday in Brooklyn, New York.
According to CBS New York, police are trying to figure out who stabbed the disabled former MTA bus driver, Otis James, multiple times in his apartment.
James, 46, was found in his home on Central Avenue in Bushwick unconscious and bleeding. Police say he had multiple stab wounds to his chest and blunt force trauma to the head.
"He didn't deserve it, said Kevin Arokium, a friend of the victim. "He's a peaceful man, a humble man."
Arokium said he can't get the picture out of his mind, seeing the dead body of his downstairs neighbour James, a married father of three.
"I see my man on the floor – blood, paper towel, knife – that's all I could remember seeing," said Arokium "That's all I see right now, a big hole in my man's chest. That's all I see right now", CBS New York reported.
On Wednesday morning police carried out bags of evidence from the murder scene at 494 Central Ave. in Bushwick, including James's boxed up wheelchair.
Police arrived around 4:30 Tuesday afternoon and found a bloody scene where someone had stabbed James more than 10 times.
His Aunt Donna James says the family is devastated.
"Right now he says he's walking around like a zombie," Donna said of her husband. "He don't know what to do. He's like a father figure to him."
James worked as an MTA bus driver for about 11 years, retiring on disability in 2017, the report said.
"There are some allegations that there was money in the house but at this point in time it's a little early to define the motive," said NYPD chief of detectives Dermot Shea.
The family had no idea who would wish such malice against James.
"We don't know," said Donna "We really don't know."
Police are searching the neighbourhood block for surveillance video that may have caught the suspect. So far no arrests have been made, the report said.
In May 2016, James was shot in his chest at Parfait Harmonie, West Bank Demerara.  He them made plans to fly home for  specialised treatment.
He was shot in the left side of his chest at point-blank range. The bullet exited through the right shoulder, leaving a gaping wound.
A relative told this newspaper then that the doctors were waiting on his condition to stabilise before granting permission for the man to travel. He had only arrived in the country the day before the shooting took place.
He was first taken to the West Demerara Regional Hospital where he was treated before being transferred to the Georgetown Public Hospital in an ambulance.
A brother-in-law, Dwayne Cameron had told this newspaper then that James stopped in for a casual visit at his home. While "gaffing," he said, James mentioned that someone was coming to pick him up.
Shortly after, he received a call on his cell phone and heard a car tooting. After James went out and locked the gate, Cameron said, he heard a loud sound, "pow!" as if a "tyre explode."
Just then he heard the man's nephew using expletives and shouting "…Otis don't deserve this."
He rushed to the scene and saw the injured man lying on the ground.
"The first thing he said was, 'take me to the best hospital [in the country]' and to 'call the American Embassy.'"
Another man, Chris, who also said he was a brother-in-law, told this newspaper that James had returned to Guyana, the first time after 30 years, for his mother's funeral. He also said he wanted to stay connected to the family and was planning to hold a party for everyone.
Around the Web