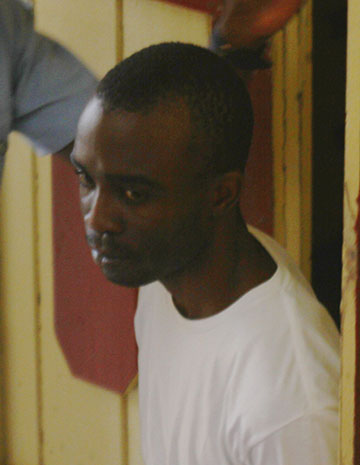 Sentenced on Tuesday to eight years in jail for firearms and ammunition possession, Steve Hercules was once again taken before a city court yesterday, when he was accused of committing a $3.7 million armed robbery just two weeks before being apprehended.
Hercules appeared before Chief Magistrate Ann McLennan at the Georgetown Magistrate's Court, where the charge was read to him.
It is alleged that the accused, on March 25, at Princes Street, Lodge, while in the company of another and armed with a gun, robbed Sean Liverpool of a Toyota Premio car, valued at $3,600,000, a Samsung Galaxy S7, valued at $80,000 and $20,000 cash, all having a total value of $3,700,000.
Hercules denied the allegation.
Attorney George Thomas, who represented the accused, requested disclosure in the matter, leading police prosecutor Gordon Mansfield to relate that the file in relation to the matter is incomplete.
Chief Magistrate McLennan then remanded the accused and adjourned the matter to April 30th, when it will be heard by Magistrate Judy Latchman.
Hercules was one of the six men who were arraigned before Magistrate Sunil Scarce on Tuesday, on charges of firearms and ammunition possession. Hercules pleaded guilty to the charges and was sentenced to serve eight years in prison as a result.
Hercules was also charged with fraudulently placing an identification number on a silver grey Premio, which he denied.
His co-accused in the matters, who all pleaded not guilty to gun and ammunition possession and also denied conspiring with Hercules to change the ID on the car are Nabadingi Gobin, Renhart Khan, Mark Prince, Edward Skeete and Mervin Blackman.
Around the Web