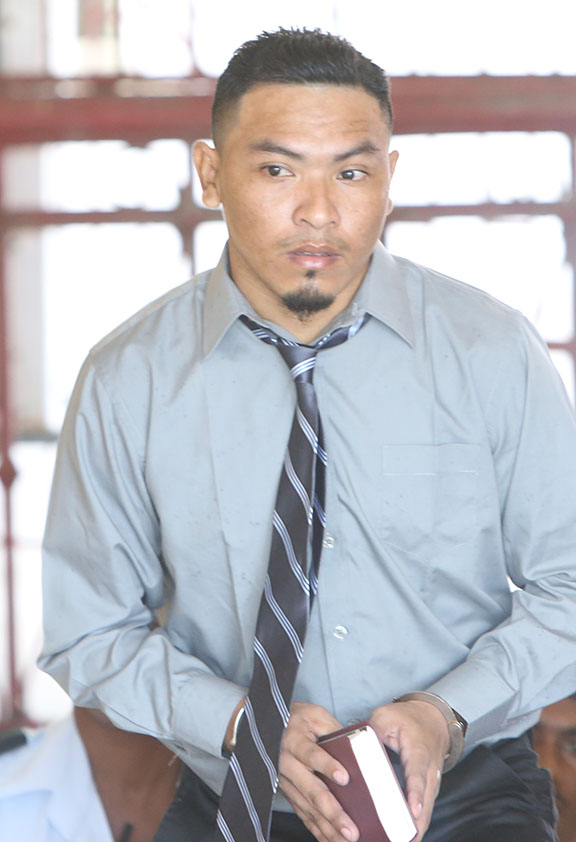 Weeks after asking the Court to vacate his guilty plea for the unlawful killing of his friend—opting for a trial instead, Phillip Sutherland has for the second time done an about-face on his decision.
The 27-year-old father of two was back in court yesterday morning, indicating through his attorney that he wanted to once again plead guilty to the lesser offence of manslaughter.
He was allowed to so do, and was sentenced by Justice Sandil Kissoon, to 10 years behind bars for the killing.
Sutherland had initially been indicted on the capital offence, but pleaded guilty to the lesser count, accepting that he unlawfully killed Martin Roberts on January 9th, 2014, in the Rupununi.
Presenting the state's case which Sutherland did not deny, Prosecutor Mandel Moore said that on the day in question, the accused, along with Roberts and others were drinking.
The court heard that the two men, and others subsequently became involved in a fight, noting that Roberts' body was found in a yard shortly after.
Moore said that when questioned by the dead man's father, Sutherland took responsibility for the killing, stating, "yes, ah me kill am."
Begging for mercy on his client's behalf, defence attorney Siand Dhurjon said that the young man is a model prisoner and was sorry for his actions which resulted in the unfortunate loss of life.
As he had advanced after his client first pleaded guilty back in early March, Dhurjon reiterated yesterday that while the defence was not disputing that Sutherland may have inflicted injuries upon Roberts, it was not his actions alone which caused the man's death.
According to counsel, evidence from the deposition shows that there was another suspect. He underscored that it was a fight among several persons and that there were actions of others which contributed to the injuries the deceased sustained.
Dhurjon said too, that his client who was heavily intoxicated at the time of the killing, never intended to kill anyone.
Referencing a caution statement which he said his client had given to police, counsel said the man related, "I don't even know I murder this man, cause I was drunk. I never had any intent of murdering anyone."
According to counsel, Sutherland, the deceased and the others in whose company they were on that fateful night, had been excessively consuming large amounts of undiluted "yeast wine."
Dhurjon described the man's drinking that night as "drunkenness at its worst," while adding that he was unable to control himself and was unaware of what he was doing.
In his request for mercy, the lawyer told Justice Kissoon that his client is a reformed prisoner, and is not prone to re-offend.
He also asked the judge to consider what he said was his client's admission of guilt at the first given opportunity, thus saving the Court considerable time in otherwise having to conduct a trial.
In his address, however, Moore said that while the injuries sustained by the deceased may not have been inflicted by Sutherland alone, he had nonetheless admitted to being involved in a fight and killing Roberts.
Before imposing sentence, Justice Kissoon said that he had perused a probation report which had been prepared on the accused, the contents of which he described caused him great dismay.
The judge noted that the events of January 9th, 2014, occurred because of the single act of alcohol consumption which resulted in grief, not only to Roberts' family who suffered the ultimate loss, but Sutherland's family as well—because of his incarceration.
In a stern reprimand, Justice Kissoon said that more than 50% of all violence perpetrated against others, whether domestic, sexual or otherwise, are initiated by alcohol consumption.
He told the young man that while he has thrown himself at the Court's mercy requesting leniency, it was also important that justice be served, noting that while his family can still see him, Roberts' family is deprived of the privilege.
Having regard to all the aggravating and mitigating circumstances of the case, the judge said that Sutherland would be sentenced to a period of imprisonment for 10 years.
Roberts died as a result of asphyxiation and a broken larynx, compounded by blunt trauma to the head.
Impassioned
While awaiting sentence after pleading guilty to the lesser offence in early March, Dhurjon in an impassioned plea, begged Justice James Bovell-Drakes who at the time was hearing the matter, to vacate his client's plea.
Counsel's argument had been that when the guilty plea was entered, he had not been in possession of the deposition, which resulted in his client being under the misconception that "inflicting a blow in self defence, made him guilty."
After perusing the file, however, counsel at a March 28 hearing told the judge that justice required his client be permitted to vacate his plea as he felt forced at the time to plead.
"This accused did not strike the fatal blow," the lawyer said, while noting that after examining the case file, he found that there was someone else who should also have been charged.
According to Dhurjon, given his client's "simplicity," he felt pressured that he simply had to do what was necessary to be released from prison and he emphasised that the man did not know what he was pleading to.
When asked by Justice Kissoon yesterday whether he understood that by pleading guilty he would be sentenced to a period of imprisonment, Sutherland answered in the affirmative.
He told the court that no one was forcing him and that he had also sought the guidance of his counsel, prior to entering his plea.
These questions had also been asked of Sutherland by Justice Bovell-Drakes, and were answered in the same manner.
In his application to have his client's plea vacated, which was granted by Justice Bovell-Drakes, Dhurjon relied on several legal authorities, among them, Archbold (1997), noting at page 385 that, "ordinarily, a plea of guilty may be changed right up to the moment that sentence is passed."
It states further that "an unequivocal plea of guilty may be withdrawn with the leave of the court before sentence."
He also referenced the third edition of Commonwealth Caribbean Criminal Practice and Procedure by Dana Seetahal, which referenced the case of Beswick v R (1989), which also said that an application to withdraw a guilty plea may be made at any stage before sentence is passed.
Meanwhile, on his  bid to have a jury immediately empaneled to hear his client's trial, Dhurjon cited Section 144 of the Criminal Law Procedure Act, which said that if the accused person pleads not guilty, he shall be deemed to have put himself upon the court for trial, and the court shall order a jury for his trial accordingly. The judge had, however, explained to him that that criminal session had already ended.
Referencing Section 144 which he pointed out contained compulsory terms, Dhurjon had noted that a jury ought to have been immediately empanelled to hear the case.
After pleading for the first time, Sutherland's sentence had been deferred to March 28 to facilitate the presentation of a probation report, which Dhurjon had requested.
Around the Web