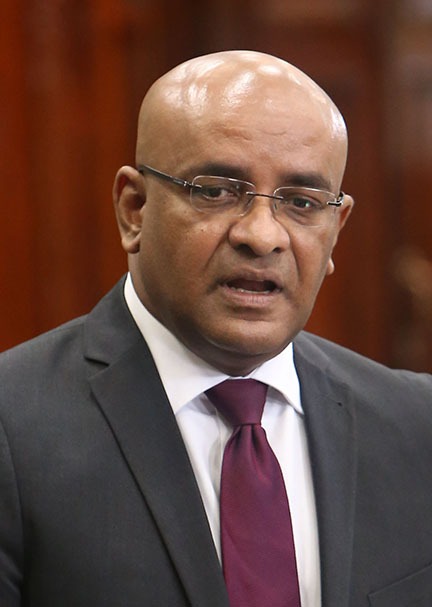 With PPP/C parliamentarians filing private criminal charges against two government ministers, Opposition Leader Bharrat Jagdeo yesterday warned that it was just the beginning and also dared the APNU+AFC administration to bring criminal charges against him for his actions while he served as president.
"This is not the end, so we are not stopping at these charges. There are several others who would be charged," Jagdeo yesterday told a press conference at the Office of the Leader of the Opposition on Church Street, Georgetown.
His comments were made after PPP/C Members of Parliament Juan Edghill and Vickram Bharrat yesterday brought private criminal charges against Minister of Public Health Volda Lawrence, and her predecessor Dr George Norton, who is now Minister of Social Cohesion, for alleged misconduct and abuse of public trust.
The charges were filed yesterday in the Georgetown Magistrates' Courts by former Attorney General Anil Nandlall, and came exactly one week after former Finance Minister Dr Ashni Singh and former head of the National Industrial and Commercial Investments Limited (NICIL), Winston Brassington were charged in absentia with three counts of misconduct in public office.
Jagdeo yesterday said that while some may perceive the charges filed yesterday as being retaliation for the charges against Singh and Brassington, this was furthest from the truth as he had long been making note of the current government's misconduct and it was only a matter of time before charges were laid.
"People have asked me whether this is a tit for tat because they charged two persons from the PPP. We have been for ages trying to get redress on these matters but it seems as though this government is content to go to the Summit of the Americas (held last week in Peru) and talk about what they are doing and corruption…to get some advisors to come and lecture the police on corruption but these matters where they have real instances of corruption, they are unwilling to take any action," Jagdeo said.
"So, if these issues, the cases that we are filing don't amount to misconduct in public office, nothing can in this country. And so we will test it in the court now, these issues," he added.
When asked if he was not worried that he could end up being charged over the 'Pradoville 2' land dealings that were undertaken under his government, Jagdeo said he was unconcerned and that the opposition would not be intimidated.
"I don't care. You go ahead and throw the worst at us. They have approached this politically," he replied.
Last year March, Jagdeo and more than two dozen persons, including Head of the Presidential Secretariat Dr. Roger Luncheon and some of his former ministers were taken down to the Camp Road Headquarters of the Special Organised Crime Unit and questioned as part of the `Pradoville 2' probe.
A special investigation of the housing development, which was part of a larger probe of the financial operations of the Central Housing and Planning Authority (CH&PA), was conducted by accounting firm Ram and McRae. A report was later submitted to government.
The investigation revealed that the allocation of the land at Sparendaam was a clandestine arrangement that was handled personally by former PPP/C Housing Minister Irfaan Ali and it was concluded that a criminal case for misfeasance could be made against the PPP/C Cabinet members who benefited.
The final report stated that of the 28 lots, totaling 12.1187 acres, only 3.9693 acres remain unallocated. It was explained that lots were allocated to six Cabinet members—former president Bharrat Jagdeo, cabinet secretary Dr Roger Luncheon and ministers Priya Manickchand, Dr Jennifer Westford, Robert Persaud and Clement Rohee—along with other persons, including Director of Public Prosecutions (DPP) Shalimar Ali-Hack and former army head Gary Best.
The probe found that the awardees grossly underpaid for the lots by a total of nearly $250 million, while the state-owned National Industrial and Commercial Investments Limited, National Communications Network, and Guyana Power and Light Inc. were never reimbursed for millions spent to execute preparatory works.
"Our examination leads to the conclusion that the project was done outside of the established procedures and that Minister (Ali) piloted every aspect of the transaction without recourse to the Authority. While the minister has considerable powers under the Housing Act, his role in the issue of titles was well outside of his functions and powers," the final report said.
The report added that the awardees made payments to the CH&PA but these were significantly lower than the market value. "No files were maintained by CHPA for any of the plots allocated by a process that can be described as lacking transparency at best," it further added.
Around the Web