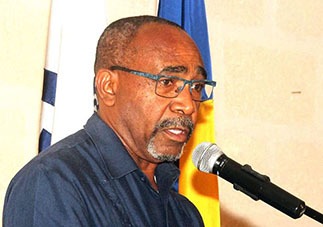 While the Caribbean Community (CARICOM) is determined to make sure that the region benefits from renewable energy and energy efficiency, countries need to bear in mind that they are owners of resources, including oil and gas, which should not be allowed to stand idly, according to Barbados' Minister in the Office of the Prime Minister with responsibility for Energy Darcy Boyce.
"We ought not to let those resources stand there idly. We should use them for the benefit of our countries of the region," Boyce said at opening of the 73rd Special Meeting of the Council for Trade and Economic Development (COTED) on Thursday at the CARICOM Secretariat, at Turkeyen.
On a cooperation mechanism for CARICOM countries in relation to oil and gas exploration and production, which was on the agenda, Boyce, who chaired the session, noted the need to optimise and balance the use of oil and gas with the natural resources of sunlight, wind and water for the region's economies.
Noting that the agenda was looking at the establishment and operationalisation of the Caribbean Centre for Renewable Energy and Energy Efficiency (CCREEE), he said the focus had been driven by the quest to reduce the foreign exchange needed to find energy to fuel the economies.
The efforts over the last few years to develop a regional energy policy and establishing the CCREEE, he added, was "just about there. A little bit more will get us over the hump to get this programme going."
The day's agenda looked at the interim operations of the centre, appointment of an executive board and the appointment of an executive director.
The programme for continued energy development in the region, Boyce said, has implications not only for saving foreign exchange but for the size of the Gross Domestic Product (GDP) of the region.
Noting that more imports mean a lower GDP, Boyce said if countries generate energy from their own resources, they will be able to increase the size of their GDP.
The benefits of the work they have been doing in renewable energy and energy efficiency, he added, must redound to the benefit of the average consumers in homes and for businesses operating in member countries.
"Those of us who have ministerial responsibilities have to pay special attention to making sure that the benefits reach down to the man in the street. This is not just an exercise in academics but an exercise in practical living for many people who sometimes can barely afford to pay their electricity bills," he said.
Meanwhile, CARICOM's Assistant Secretary General for Trade and Economic Integration Joseph Cox said that as part of a strategic framework for following up on decisions taken at COTED meetings, the Secretariat has assigned a technical officer to member countries, which have reciprocated by naming their technical counterparts. "At the end of the day the membership of CARICOM is looking forward at what is coming out of the meetings," he said.
Around the Web