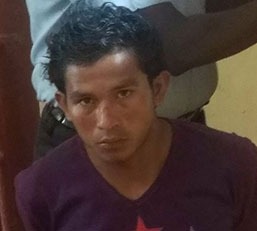 A Rupununi farmer was yesterday sentenced to serve three years in jail after he pleaded guilty to growing marijuana.
Kenneth Thompson, 35, admitted that he cultivated 12 cannabis plants, which are prohibited, in the Deep South Rupununi on April 18th, 2018.
Thompson, who told Principal Magistrate Judy Latchman in Georgetown that he had been sentenced before for the same crime, said both he and his brother planted the marijuana, "half and half."
Based on his explanation, the court entered a guilty plea.
Police Prosecutor Arvin Moore stated that on the day in question, police, acting on information, went to the Thompson's farm and informed him that they had been told that he was farming ganja. A search was conducted on farm and the 12 cannabis plants, each nine inches tall, were found.
Moore corroborated Thompson's explanation to the court, saying that under caution he told the police he and his brother planted the cannabis.
Before sentencing, Magistrate Latchman asked Thompson whether he had ever served time in prison. The man stated that he served time before for the very offence.
As a result, Magistrate Latchman told Thompson he should think about farming other crops, like oranges and bora. Magistrate Latchman then sentenced him to three years in jail and fined him $15,000.
Around the Web