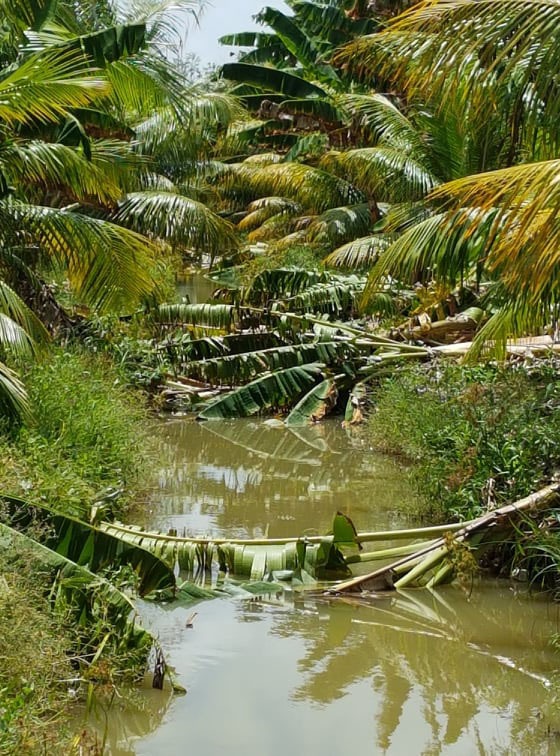 The storm which lashed Lima  and other parts of the Essequibo Coast two Fridays ago and damaged some homes also ripped through farms in the Pomeroon River.
However, Region Two Chairman Devanand Ramdatt yesterday said his council was not informed of any severe damage.
Well-known farmer Roopan Ramotar told Stabroek News yesterday that he has suffered between $7-8M in damage based on his estimate, as a result of the powerful winds that swept through the area. The storm, he said, uprooted approximately 30 acres of plantain suckers and 25 coconut trees at his Hackney Canal Farm in the Pomeroon River.
"It is a major loss but nobody noted it. Only a few bunches I was able to retrieve …because most of the suckers were either not bearing or starting to bear," he explained.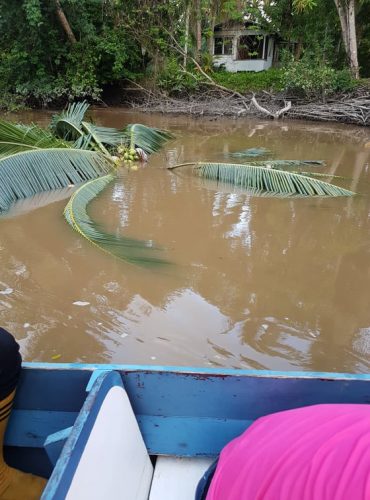 He said he remains positive since the price for plantains on the market is at $75-80 per pound and it is expected to go up.
Ramotar added that he only discovered the severity of the storm when he visited three days later.
"This is the second time I suffered damage. Last year when there were storms in the Caribbean islands and we had some of it, I had damage," he stated.  Since the storm, he said that he has already begun to plant new plantain suckers at his farm.
"This does not deter from planting. I love farming I cater for the worst in farming because it is a great risk. You might have all good intentions for a crop but sometimes it is good and sometimes it is not and that is a risk we take," the farmer stressed.
On this note, he called for the Government to provide tax incentives to young farmers as an encouragement to continue producing despite challenges.
"Farmers face the brunt of nature, the weather and insects but the government does not look at this. If they want to develop this sector they need to offer incentives to young farmers to motivate them," he said, pointing out that it is always a challenge to restart farming after suffering damage.
There was also overtopping during the storm.
Ramdatt yesterday said that at the level of the RDC they are trying to address the situation by improving the defences on the embankment. He said that a contractor is undertaking work on the river embankment to prevent overtopping.
Around the Web