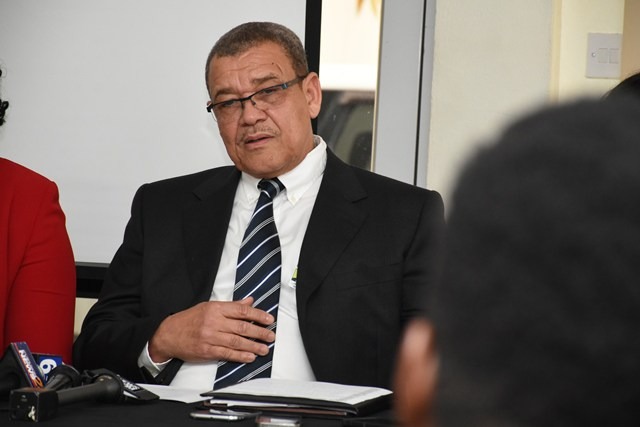 With the oil and gas sector set to bring in an estimated US$700 million in its first year of full operations, GRA Commissioner-General Godfrey Statia is convinced that once he is at the helm of the revenue agency there will be no successful tax evasion by ExxonMobil.
He says he has also indicated to Exxon that the Guyana Revenue Authority (GRA) will be conducting audits of the company's operations.
Speaking at a press conference yesterday, Statia reacted with amusement to reports that oil companies in Trinidad and Tobago have allegedly been evading US$200 million annually in withholding taxes through inter-company transfers across the Caribbean
"If that occurs here, it would not occur under my watch. It means that the tax officer was not doing their job properly. You ought to be able to pierce all of these veins, if you have the correct staff doing your reviews, your audits and your investigations you ought to be able to trace where the money ends up," he explained.
Statia, a United States Certified Public Accountant, who has decades of experience in valuation and forensic accounting, further noted that this method of evasion is not new to him or Guyana.
"Guyanese taxpayers have been doing that for years. Oil companies have been doing that for years. There are cases the GRA won in the 70's where this was done," he stressed adding that GRA currently lacks people who have the competence to go and find all these taxes which is why training is important.
Asked how the agency would ensure that oil companies do not inflate their expenses to rake in more from cost oil, he said a lot would depend on the information provided by these companies.
"The first thing that you need is that you need to have adequate information flow from Exxon or from any other oil company. Once you have adequate information flow, you cannot wait until the end of the period within which you are going to start an audit…a review should be continuous. You should have persons on the spot specifically trained in these activities and reviewing the operations on a day by day basis," Statia said.
He reminded that training for members of the new Oil and Gas unit in the GRA will begin on Monday. This training is to be achieved with help from the United States, specifically technical assistance from a group of retired Internal Revenue Service employees. Some staff will also be sent to Trinidad for training within the next few months
The Commissioner-General noted that the British have also earmarked the agency for training and made available a grant of £100,000 while Minister of Finance Winston Jordan has indicated that US$2 million will be set aside for training of members of the authority.
Statia repeatedly stressed that the agency cannot effectively function without a "cadre of staff capable of doing a proper audit"
"We are not equipped as yet which is why we need training. Last week we trained inspectors. The last time such a training happened was in 1997. We have a chance to fix this shortcoming by starting afresh in the oil and gas unit," he stressed.
The GRA had previously advertised for members of the public to apply to join the unit but has since decided to first train persons within. External hires are still however planned for certain technocratic positions which would require "persons fully into petroleum audit and petroleum accounting" as well as possibly a geologist. According to Statia these persons are to be employed so once fully constituted the unit can hit the ground.
As it stands the authority has a continual presence on the ExxonMobil ship to "see the assets that are going on and moving off" to determine costs, and deter ring-fencing through to movement of assets from one well to another.
Additionally the oil company has been informed of the GRA's intention to conduct certain audits. These will not only be expense audits but also revenue, asset base and as per well audits.
"There are varying approaches. There are desk audits that will produce more than if you go on the spot and do observations. You don't have to be on the well measuring barrel by barrel to do a proper audit on any oil company. There is adequate software and you could trace the funds all over the world," he said.
The Commissioner-General also indicated that the unit will be looking at more than profit sharing.
"As the need arises you have to follow the steps to see where you can maximize your taxes. Audits not just on Exxon but also on contractors associated with the industry…we need to look at all other avenues", he said.
Around the Web