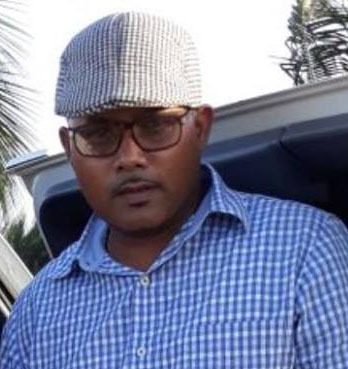 The police are currently pursuing two suspects in connection with the armed robbery attack committed on food vendor Owen Xavier Khan, who was shot and robbed along the Lusignan Public Road, East Coast Demerara, two weeks ago.
Contacted for an update yesterday, Divisional Commander Edmond Cooper told Stabroek News that while no arrest has yet been made, the police have since obtained a statement from Khan and investigations are ongoing.
Khan, of Lot 10 Area H, Lusignan, East Coast Demerara, sustained a single gunshot wound to his stomach during the incident, which occurred around 10 pm on April 11.
He was rushed to the Georgetown Public Hospital (GPH), where he underwent emergency surgery and was subsequently discharged. The bullet remains lodged in his back.
Khan, who operates a mobile food vehicle along the Lusignan Public Road, where he sells BBQ meat, had related to Stabroek News that he and an employee were attending to some customers when they noticed a gold-coloured vehicle pull up.
He said while two men exited the vehicle, a third individual remained seated in the back seat.
The ones who exited, he recalled, pretended to be customers and proceeded to make an order, but he realized afterwards that one of the men, who had been pretending to search for his wallet, had a gun under his arm.
Prior to being shot, he had said one of the men held him at gunpoint and ordered him to "pass everything". In fear for his life, Khan said he replied 'no problem, its right here', as he lifted up the apron he was wearing to show the bandit that the money was in there.
"Then I noticed that his finger was tightening on the trigger", Khan had related. He said as the gunman relieved him of the cash that was in the apron, he discharged a round, which struck him in his stomach.
After this, Khan added that the man's two accomplices searched his pockets which contained about $20,000 in cash.
Around the Web