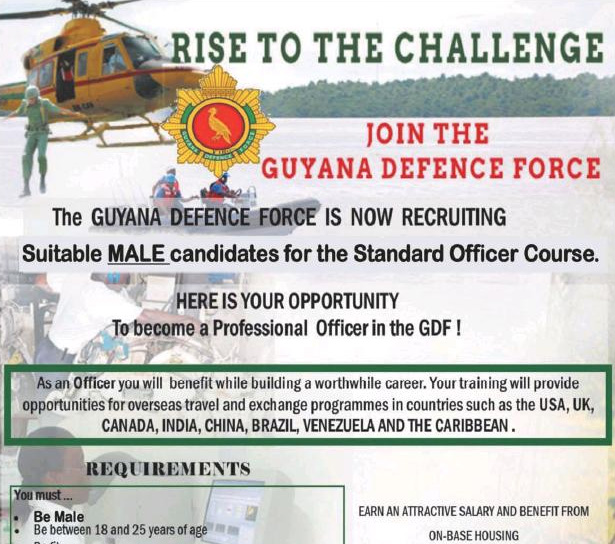 A new Guyana Defence Force (GDF) campaign to recruit prospective officers is being seen as discriminatory as only male candidates are being invited to apply.
According to a recruitment advertisement published in the Sunday edition of several newspapers, potential candidates for the Standard Officer Course must be male.
The advertisement goes on to list several other criteria, including that these "male candidates" must be between the ages of 18 and 25, fit and healthy with a minimum of 5 CSEC subjects, inclusive of Math and English with Grades I and/ II.
Stabroek News attempted to ascertain the rationale behind the decision to only seek male candidates and was told by the recruitment office that the force is currently "over strength with females."
The officers who answered the phone explained that they were not authorised to speak with the media and therefore could offer no explanation as to the whether there was a quota for male and female officers which had to be met.
However Dr. Pauline Bullen, Director of the Institute of Gender Studies at the University of Guyana, has called the GDF's approach regressive and likely in breach of the Prevention of Discrimination Act, which specifically states that is it unlawful for any employer to discriminate against any person because of sex in relation to recruitment.
"It goes against everything to do with equity in employment and hiring. Obviously, the GDF is failing to rise to the challenge of providing an equitable environment for employment. It flies in the face of the Sustainable Development Goals, which call for countries to achieve gender equality and empower all women and girls. It is a clear example of regressive workplace hiring practices still being employed in this country," she lamented.
According to Bullen, it would have been preferable to see an ad stating that the GDF is willing to put in place training which can prevent officers from displaying behaviour detrimental to the health and wellbeing of women.
The GDF is an institution which has boasted distinguished female members, she noted, while lamenting that it is publicly exhibiting workplace discrimination.
Around the Web