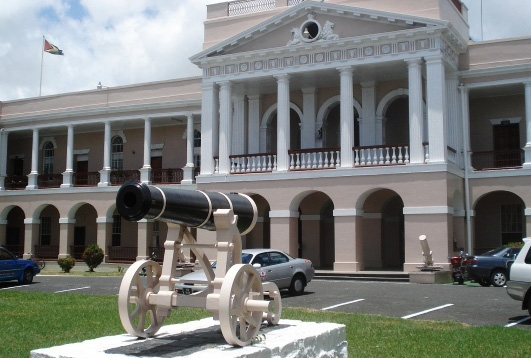 After nearly two years of work the Special Select Committee on the Cybercrime Bill of 2016 has submitted its  report to the National Assembly but while members of the committee from both sides of the house have found the final bill acceptable concern has been raised over its impact on free speech.
While previous objections have been raised about clauses which "penalize whistleblowers and media for publishing information collected illegally" the majority of objections voiced after the committee's report was made public centred on Clause 18 which defines the use of a computer system to commit offences of sedition.
According to President of the Guyana Press Association (GPA) Nazima Raghubir, the "terms used in the clause seem very subjective."
"Legislators cannot be this disconnected from society to construct a clause that can be misused at any time to trample on one's right to freedom of expression. Clause 18 criminalises the dissemination of information and can create liability for media houses, journalists and even private citizens. This information in my opinion can be true in nature but someone can wake up and feel it has caused them "emotional distress". The clause can be used to criminalise the publication of a story or even comments on many of our new websites," she explained.
Raghubir is particularly concerned about its application in a country which she notes lacks "political maturity"
"I can foresee how this can be used to suppress the freedom of the press to operate and the freedom of expression. The clause creates a broad licence for the government, any government to prosecute statements or comments it does not find favour with and the high fines as I pointed out criminalises the publication of those statements," she lamented.
The clause states that a person commits the offence of sedition if the person, whether in or out of Guyana, publishes, transmits or circulates by use of a computer system a statement or words, either spoken or written, text, video, image, sign, visible representation or other thing that "brings or attempts to bring into hatred or contempt or excites or attempt to excite disaffection towards the government established by law in Guyana."
The offence also extends to a transmission which "encourages, incites, induce, aids, abets, counsels any person to commit or to conspire with another person to commit any criminal offence against the President, Prime Minister or any Minister of the Government".
According to the definition in clause 18 (4) disaffection includes "disloyalty and all feelings of enmity".
It however goes on to state that comments expressing disapprobation [disapproval]of the measures of the government with a view to obtain their alteration by lawful means without exciting or attempting to excite hatred., contempt or disaffection does not constitute an offence.
It is also not an offence to disapprove of the administrative or other action of the government without exciting or attempting to excite hatred, contempt or disaffection nor to say that the President, Prime Minister or any Minister of the Government or the government itself have been misled or mistaken.
Citizens also remain free to point out errors or defects in the government, constitution or parliament, to procure by lawful means the alteration of any matter of government and point out for the purpose of removal matters that produce or tend to produce feelings of hostility and ill-will between different classes of persons in Guyana.
In its totality the bill seeks to combat cybercrime by creating offences related to cybercrime while providing for penalties, investigation and prosecution of the offences and related matters. It was first laid in the house on August 4, 2016 and sent to a special select committee for consideration after its first reading. The nine members of the committee included five government parliamentarians and four opposition parliamentarians.
The APNU+AFC government was represented by Attorney General Basil Williams, Minister of Public Security Khemraj Ramjattan, Minister of Education Nicolette Henry and Parliamentarians Michael Carrington and Audwin Rutherford while the PPP/C was represented by Chief Whip Gail Teixeira, former Minister of Home Affairs Clement Rohee, former Attorney General Anil Nandlall and parliamentarian Gillian Persaud-Burton.
According to the committee's report the bill was examined clause by clause over a 20-month period and the committee benefitted from expert assistance. Steven Chabinsky, an international lawyer with extensive private sector and government experience focused on cybersecurity risks was engaged to offer advice.
The special select committee benefitted from his expertise which includes cyber preparedness, incident response, information governance, data privacy, data breach regulatory response, government and internal investigations, reputation management, and the cybersecurity fiduciary duties of directors and officers.
None of the nine members raised objections to the contents of Clause 18 rather it was "accepted as presented" even as several other clauses were significantly amended.
Around the Web