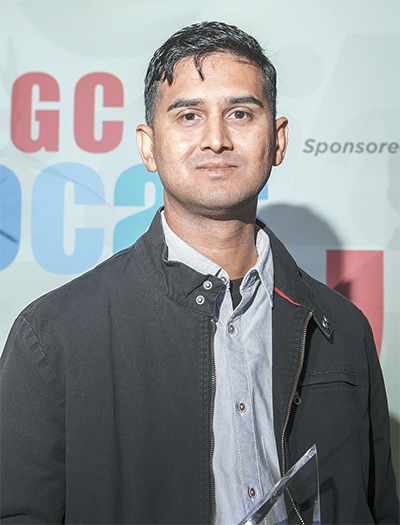 For Guyanese writer Imam Baksh, the greatest reward for writing is being read and for the second time in four years his work is guaranteed an audience.
On Wednesday, Baksh took home his second CODE Burt Award for Caribbean Young Adult (YA) Literature.
Baksh received this year's first prize of Cdn$10,000 for his manuscript The Dark of the Sea. His first novel, Children of the Spider, won the same prize in 2015, while his short stories have also won the Henry Josiah Prize for Children's Stories three times between 2006 and 2010.
Speaking with Stabroek News yesterday, Baksh explained that he is most happy about CODE'S commitment to see the winning entries published.
"The best part of this is knowing you'll get published. The award is good and I feel honoured, but the ability to put your words in front of an audience is the real prize. CODE really nailed that aspect of the award and follow-up process," he explained.
The CODE Burt Award for Caribbean Literature was established by CODE—a Canadian charitable organization that has been advancing literacy and learning for 59 years—in collaboration with the Literary Prizes Foundation. CODE's Burt Award is a global readership initiative that includes programmes in Ethiopia, Ghana, Kenya, Tanzania, and Canada.
It further supports local writing and publishing through workshops for writers and editors and through reading promotion initiatives, such as sponsoring events that connect winning authors directly with young readers.
The CODE webpage explains that as part of the award programme, CODE helps to connect the winning authors to Caribbean publishers and their books will be published in 2019.
"CODE also purchases and distributes up to 2,500 copies of each winning title. This unique distribution program ensures great literature makes it into the hands of young people through schools, libraries and community organizations across the Caribbean," it further notes.
The award, which recognizes outstanding writing for young adults by Caribbean authors, is in its fifth year. Each year, three finalists are guaranteed publication.
This year's finalists included Shakirah Bourne, a Barbadian award-winning writer and filmmaker, who received a finalist prize for her YA manuscript My Fishy Stepmom, as well as Bermudan Elizabeth J. Jones, a freelance writer, editor and tutor, whose first YA novel A Dark Iris was similarly acknowledged.
The winners were selected by a jury administered by the Bocas Lit Fest and made up of writers and literacy experts and each finalist took home a prize of cdn$2,000.
Scott Walter, Executive Director of CODE, is quoted on the award webpage as stating that "despite all the other distractions, everyone still loves to read a good story." He also said it is a fantastic time to be a YA author as the demand continues to explode worldwide. "What's really exciting is the growth of Caribbean writers and the increase in the range of extraordinary new stories across the YA genre. Nothing illustrates this better than the latest three winners of CODE's Burt Awards for Caribbean Young Adult Literature. This year we have a great mix of fun and fantasy—real page turners full of humour, adventure, and the realities of adolescence, crushes and family problems. Congratulations to the winning authors, I hope these books make it into the hands of every youngster in the Caribbean," he added.
Marina Salandy-Brown, founder and chairperson of the Bocas Lit Fest, added that each year more wonderful tales for young adults appear, creating unique, diverse, new worlds, not only for readers in one island or another but for all Caribbean readers. "I look forward to these beautiful stories and books getting one day into the hands of children wherever their parents settled in the world, linking them to the joys and adventures of young people living in this archipelago," she noted on CODE's webpage.
Around the Web