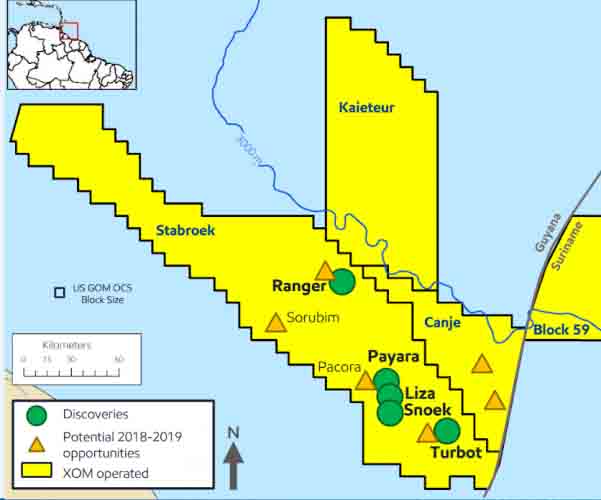 ExxonMobil has announced that the Sorubim-1 well in the Stabroek Block offshore Guyana is dry.
Exxon's subsidiary Esso Exploration and Production Guyana Ltd (EEPGL) began drilling the Sorubim-1 well, which is located north west of its fruitful Liza find, on April 3rd, 2018.
In a statement issued by Exxon yesterday, Kimberly Brasington, Senior Director, Public and Government Affairs for ExxonMobil, said, "We have had great exploration success in Guyana with seven previous discoveries: Liza, Liza Deep, Payara, Pacora, Snoek, Ranger, and Turbot. Skipjack and now Sorubim are what we call 'dry holes.'"
The Sorubim drill site and the offshoring staging area are approximately 83 nautical miles and 53 nautical miles, respectively, from the coast of Guyana, which is closer to the coast than previous wells. Sorubim covers an area of four square kilometres by two square kilometres.
Like at Sorubim, EEPGL did not find commercial quantities of hydrocarbons at its Skipjack well, also in the Stabroek Block. Since then, however, it had a string of finds. The company has said its 'world-class" discoveries are estimated to total more than 3.2 billion recoverable oil-equivalent barrels.
The Exxon statement said the drill ship Noble Bob Douglas will complete Sorubim-1 well and then move to begin drilling the Liza Phase 1 wells.
It added that the Stena Carron drill ship will continue to explore and evaluate other areas of the block. The Stena Carron is currently drilling the Liza-5 well, which will likely be followed by a new prospect, called Long Tail.
"Any exploration activity comes with a certain amount of calculated risk. This is especially true in frontier areas like Guyana. We know that success is not guaranteed, but we are not reluctant to take measured risks," it said.
"We have had great exploration success in Guyana with seven discoveries in the country. We're exceptionally proud of the work our teams have done in Guyana. We are well on our way to production by 2020 on the first discovery," it added.
The Stabroek Block is 6.6 million acres (26,800 square kilometers). EEPGL is operator and holds 45 percent interest in the Stabroek Block. Hess Guyana Exploration Ltd. holds 30 percent interest and CNOOC Nexen Petroleum Guyana Limited holds 25 percent interest.
Around the Web