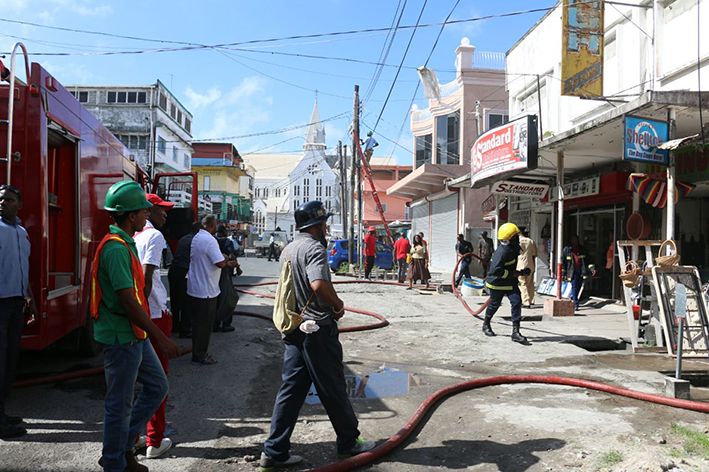 Firefighters and public-spirited citizens yesterday averted a potentially major fire that threatened three stores on King Street, Georgetown, yesterday afternoon.
Up to last evening, the origin of the fire was unknown. The Guyana Fire Service has since launched an investigation.
The fire reportedly started sometime around 2.20 pm at a bond used by the D. Singh and Sons Variety Store on King Street.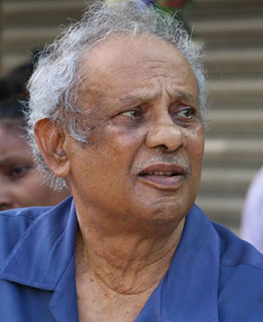 An alarm was sounded by an employee of the store, who said she was in the bond to collect an item for a customer and noticed that the ceiling was on fire. Upon discovering the fire, the employee said she informed one of the porters, who rushed to scene with a bucket of water.
At the same time, she said they informed the proprietor Deodat Singh. Singh explained to reporters that after he learnt of the fire, he summoned the fire service.
However, before they arrived, public-spirited persons, upon seeing smoke emanating from the building, started a bucket brigade and managed to contain the fire.
"We started a bucket brigade and then three fire trucks came. We had battled the fire but there was serious smoke and the fire service asked us to leave the building and they took over," Singh's son, who was a part of the bucket brigade, said.
The fire service's Divisional Commander of Operations Gregory Wickham said the fire moved to a second store, Standard Distributors, but they managed to contain it.
He explained that they were yet to determine the origin of the fire and to what extent the three businesses D.Singh and Sons Variety Store, Standard Distributors and Vijay's Variety, suffered damages.
Around the Web