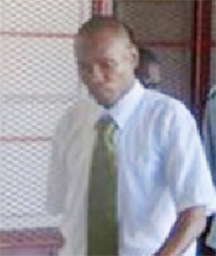 Two prisoners, including a convicted murder, were yesterday charged with obtaining money by impersonating First Lady Sandra Granger.
The two accused are Paul Anthony Lo-Hing, who was sentenced to 83 years in jail in 2014 for the murder of Shoala Gilgeous, and Wazim Mohamed, who was sentenced to 10 years for manslaughter after the unlawful killing of his friend, Russell Nelson.
Lo-Hing and Mohamed were brought before Chief Magistrate Ann McLennan in Georgetown, where a joint charge was read against them.
It is alleged that in April 22nd, 2017, at Mahdia, they obtained $30,000 in phone cards from Beverly Harris by falsely pretending that they were First lady Sandra Granger and that they were in a position to offer a scholarship.
Additionally, a second charge was read to Lo-Hing, stating that he, between April 1st and April 30th, 2017, at Tuschen, obtained $30,000 in phone cards from Basmattie Singh by falsely pretending that he was First Lady Sandra Granger and that he was in a position to grant a scholarship.
Both convicts denied the allegations levelled against them.
Lo-Hing and Mohamed were subsequently remanded to prison until May 4th, when their next hearings are scheduled.
Another man, Mohammed Ally, was charged last December with the two offences and one other. He too had denied the charges.
Last July, the Office of the First Lady called on citizens not to be duped by persons purporting to be running a scholarship fund in her name, while noting that citizens had been defrauded in Bartica and other hinterland communities. It explained that citizens had been approached via phone calls and text messages from a particular telephone number with a request for payment in return for the opportunity to gain scholarships.
"The Office of the First Lady would like to inform that no such scholarship fund exists and that no one should hand over any money to anyone in the name of that office. Residents are also strongly encouraged to report these incidents to the nearest police station so that the perpetrator(s) can be brought to justice," it had said, while noting that the police were investigating.
It is unclear how the two convicts could commit the offences while incarcerated but prisoners have been able to gain illicit access mobile phones at the various prison facilities across the country.
Around the Web