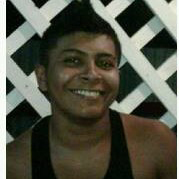 The family of Sunil Mangra, the Uitvlugt Estate labourer whose body was discovered at the Stewartville seashore, West Coast Demerara (WCD) last Monday, believes that he was murdered and is calling for a thorough investigation by police after what it has described as a lackluster approach so far.
The lifeless body of 23-year-old Mangra, a resident of Para Field, Leonora, WCD, was discovered lying at the seashore around 6.30am last Monday by a pump attendant.
Divisional Commander Richie Das told this newspaper last week that an autopsy revealed that Mangra died of drowning and as a result of blunt trauma to his head. After the discovery of the man's body, the police had said there were no visible marks of violence.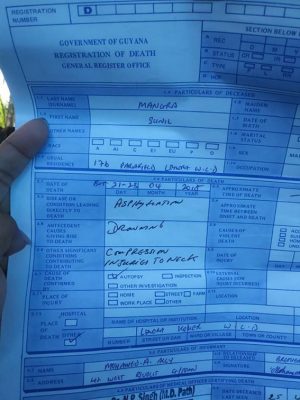 But Shavanie Mangra told Sunday Stabroek that a death certificate in her possession states that her brother had compression injuries to his neck. It also listed the cause of his death as asphyxiation, which can be caused by drowning.
Additionally, she noted that Sunil's bicycle, which he used to leave left home, and his silver chain and rings, which he had been wearing, have not been found. His cell phone was, however, recovered in his pocket.
While it is suspected that Mangra might have sustained the blunt trauma to his head due to a fall, this newspaper was told that the police are still investigating.
However, his family believes that the police have been dragging their feet in the matter. "They dragging they feet. Yuh got to keep calling them, them ain't calling me and tell me wah going on, I got to keep running and find out," Shavanie said.
According to Shavanie, since her brother's death, the family has been hearing different stories but is still unsure of what transpired. "Nuff body saying this and dah, but nobody ain't coming forward," she said.
She explained that information they received indicated that her brother was last seen drinking at a shop with some friends, who claimed that he subsequently left. "The day when I tell the police them go the shop and suh weh he last been and suh, the way how he talk to me… he just walk in and walk out… the shop man tell he [the policeman] the camera ain't wuking and that was it. He went in a car," Shavanie's husband, Mohamed Ameer Ally, said.
Ally said he identified Sunil's body at the mortuary and at that time there were visible marks to his head and face. 'When yuh watch the body, yuh could naturally see the marks of violence 'cause yuh see the impact on he head like weh he get lash and he mouth," Ally noted.
They have both since voiced their suspicions about a neighbour, whom they said Sunil had "an incident" with on Easter night. "Based on what we hear he [the neighbour] went at the shop the night but he mother and sister hiding he and two to three days ago we ain't seeing he," Ally related.
Shavanie added that she was told the neighbour saw police recently but she said it is unclear if he was questioned or if a statement was taken from him.
Shavanie said she last saw her brother on Easter Monday. "On Easter day last we talk. He does live over the river [on the WCD] and I does live in town but mommy last saw him on Saturday. He was home all day and he leave to go out with some friends but normally is Saturday he does leave and go lime lil and come back," she related.
Shavanie said she received a call on Saturday evening from her mother, who told her that Sunil did not return home. "He does normally stay by some people that does sell chicken so we seh he mussy deh there but then Saturday pass and he ain't come and I tell mommy, that ain't look right because he don't spend more than two nights out," she said.  "I keep calling for update, asking steady, steady, weh he deh but the morning [Sunday] she seh he nah come," Shavanie added.
On Sunday evening, she said she started to suspect something was wrong but she didn't expect the worst. "Meh seh probably he get in some problem and deh the station or probably something like he get in accident and deh in hospital, me nah think this far," the woman explained.
Shavanie said on Monday she and her husband were about to check some police stations and other places for her brother. "Before dah now, the morning, mommy call me and seh somebody seh something wrong with am but them nah too certain was he, because he got long hair and he been face down suh them nah turn over the body as yet," she recalled, while noting that minutes after their worst fears were confirmed when the body was identified as that of her brother.
Around the Web