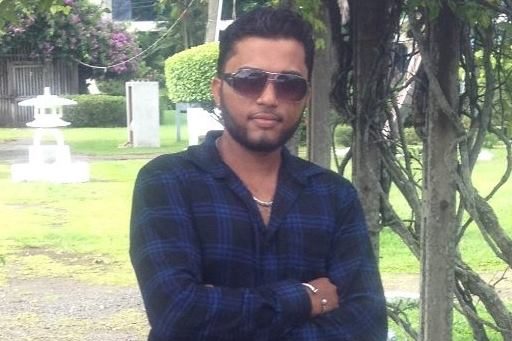 Relatives of a Better Hope construction worker are mourning his death after he was shot while sitting with relatives outside of his premises.
Dead is 29-year-old Daniel Nandlall of Lot 21 Lalchand Street, Better Hope, East Coast Demerara.
According to Alisha Douglas, a cousin of Nandlall, around 11 pm on Saturday she, her father, Nandlall and another person were sitting and talking when she saw her cousin turn his chair and begin to speak to someone.
Although she could not hear what the person was saying, Alisha stated that she heard Nandlall say to the male voice, "Come back tomorrow, de man nah deh heh."  It was then, she stated that, Nandlall got up and tried to go towards her and she heard a gun go off and saw him fall flat on the ground.
A visibly shaken Alisha said that she began to scream "thief!" and went to look out to see who the shooter was but saw no one.
"I have no idea who the person was because I didn't see anyone or heard what they said to Nandlall but, I can say it's a male voice", Alisha added.
Shortly after the shooting, Nandlall was picked up and taken to the Woodlands Hospital where the family had to make a down payment of $60,000 for him to see the doctor. They were however unable to make a financial arrangement for surgery. Without the funds, Nandlall was taken to the Georgetown Public Hospital (GPH) by an ambulance where he was pronounced dead.
Alisha told this newspaper that her cousin was shot in the back and the bullet lodged, causing internal bleeding.
Family members described Nandlall as one of the best human beings they have come across. Alisha told this newspaper that her cousin was also helpful, and assisted whenever he was needed.
She added that she is unaware of any grievance anyone would have had with him or any of the family that would have caused someone to kill him.
Police Commander of 'C' Division, Edmond Cooper told this newspaper that investigators do not have a suspect but are working with the little information they have to crack the case.  He also noted that there was no sign of a robbery.
According to a police press release issued yesterday, Nandlall's body  is presently at the GPH mortuary awaiting a post-mortem examination.
Around the Web