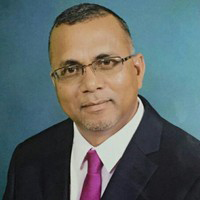 Increasing demand from Mexico has driven the significant growth in rice exports to Latin America, according to head of the Guyana Rice Development Board (GRDB) Nizam Hassan, who has also said rice exports to Cuba are expected to increase by 200% this year.
Hassan told Stabroek News that the demand from the Latin American market, which has resulted in millers paying better prices to farmers, has led to exports to Europe declining.
Last year, rice exports totalled 539,386 metric tonnes, which earned US$201,034,834.
The Latin American market imported 263,957 metric tonnes, for which US$96,293,748 was earned, compared with the 155,630 metric tonnes imported in 2016, which earned US$59,001,264.
In contrast, 186,150 metric tonnes were exported to the European market last year and earned US$61,790,965 as compared to the 259,825 metric tonnes that were exported in 2016, for earnings of US$79,528,421.
"Let's look at Mexico. Mexico bumped up that figure [for Latin America] and if you minus the amount that was exported to Mexico and Cuba, it takes you back to more or less what it was in 2016, give or take. So, basically because of the demand of the product in Mexico, the millers paid better prices to the farmers for the last crop," Hassan said.
He explained that in addition to the farmers being paid better prices, they were also paid in a much timelier fashion, which is expected to continue throughout 2018.
While last year the Mexican government had issued a quota to South America of 100,000 metric tonnes, this year it has been increased to 150,000 metric tonnes.
"We continue to export but to the extent that it's open to other countries on a first come, first served basis and how the exporters and buyers are able to negotiate," he said.
He added that the GRDB recently returned from participating in a premier business expo in Mexico, where it received favourable reviews from the Mexican business community and the general attendees.
Guyana also exported 15,512 metric tonnes last year to the previously untapped Cuban market for earnings of US$8,644,828 and Hassan said the GRDB expects the exports to Cuba to increase by as much as 200%.
He explained that one of the main reasons why the exports will increase this year is because more millers will be tapping into the market as compared to one who did so last year.
CARICOM imported a total of 88,758 metric tonnes of rice from Guyana last year, resulting in US$42,665,759 in earnings, compared with the 82,526 metric tonnes that were imported the previous year for earnings of US$39,703,134.
Additionally, the United States only imported 520 metric tonnes last year for earnings of US$284,362, compared with the imports of 1,162 metric tonnes in the previous year, which brought in revenue of US$542,524.
Increase in yield
In terms of production, Hassan noted that there has been an increase in the average yield. Last year saw a yield of 5.6 tonnes per hectare for the first quarter, while the yield for the 70% of the crop that has been harvested for this year currently stands at 6.0 tonnes per hectare.
While the complete first quarter figures are not yet available, the figures available at April 16th showed that from regions Two, Three, Four, Five, and Six a total of 365,728 metric tonnes of paddy were produced, which is equivalent to 237,723 metric tonnes of rice.
Region Five is leading the other regions as a total of, 146,971 metric tonnes of paddy has been produced, which is equivalent 95,531 metric tonnes of rice, with a yield of 95.4 bags per hectare, which translates to 6.1 tonnes per hectare.
Region Four, meanwhile, has recorded production at 21,731 metric tonnes of paddy, which is equivalent to 14,125 metric tonnes of rice with a yield of 106.3 bags per hectare, equal to 6.8 tonnes per hectare.
With only 85% of the crop harvested in Region Two, 68,791 metric tonnes of paddy have been produced so far, which is equivalent to 44,714 metric tonnes of rice with a 93.6 bags per hectare, equal to 5.9 tonnes per hectare.
With 84% of the crop harvested, Region Three has seen the production of 37,412 metric tonnes of paddy, which is equal to 24,318 metric tonnes of rice, yielding 86.9 bags per hectare, which is equivalent to 5.5 tonnes per hectare.
Additionally, 90,821 metric tonnes of paddy have been harvested so far for Region Six, with 34% of the crop still to be harvested. The output so far is equivalent to 59,033 metric tonnes of rice, with a yield of 96.6 bags per hectare or 6.1 tonnes per hectare.
No harvesting has been done in Region Nine as yet.
"The factors that contribute to the performance of the crop so far is that firstly there was good weather conditions for the crop. There were good husbandry and management practices in the field by the farmers and while there are pests and diseases, there were no outbreaks. There was good quality seed paddy and a good application of appropriate fertilisers and chemicals at their required rates. Then there was a good relationship and communication between the GRDB's Research and Extension department and the farmers," Hassan said, while emphasising that the industry is resilient and while there were some challenges years ago, the current data shows that there has been drastic improvement.
Hassan said that 1,100,000 metric tonnes of paddy are expected to be produced for the year, which is equivalent to 715,000 metric tonnes of rice.
With production and export set to increase, Hassan assured that all of the production, except that slated for local consumption, has been committed to markets.
"Farmers are being paid almost immediately or within a short time frame and sometimes the very next day, which is an indication. A miller would only pay for their paddy because he wants it and that shows there is a demand for the paddy. The miller wouldn't demand it if he can't sell it," he added.
Around the Web