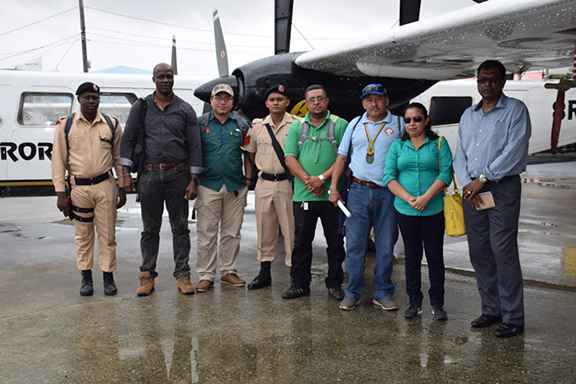 The return of  firearms which were collected during the government's firearm amnesty of 2015 is soon to be realised.
A Department of Public Information (DPI) press release yesterday however said that a planned trip to Region Seven to commence the distribution process was  aborted due to inclement weather.
A team headed by Minister of Public Security Khemraj Ramjattan that also included Minster of Indigenous People's Affairs Sydney Allicock and Minister of Public Affairs Dawn Hasting-Williams, was on site to depart the Eugene. F. Correia International Airport yesterday morning to enable the distribution.
The team was to meet with residents of 11 indigenous communities at Chinoweng, Philipai and Kamarang.
In addition to the firearms, DPI said that they were also taking along 121 gun permits to distribute to the residents. However, weather reports coming out of the region advised against the trip.
Ramjattan said the government is very disappointed by the delay.
"It is important that we get there because a lot of the indigenous persons are desirous of having their firearm licences and their firearms returned, we had a long period to ensure that their licences are obtained," he told DPI.
The Minister said that the process of returning the surrendered firearms took a while because all relevant information had to be collected in accordance with the firearm board.
"I want the people there to know from those 11 villages that we are going to make every effort as early as possible to make the deliveries," he said.
Allicock said persons had trekked from very long distances to meet up at the respective locations either to receive their firearms or their permits to purchase firearm. However, safety remains crucial.
"For safety we have just decided not to make the trip because we have received reports that there are thunderstorms and rain in all three locations," Allicock told DPI.
Members of Indigenous communities back in 2015 had participated in the Ministry of Public Security's gun amnesty programme, relinquishing their unlicenced firearms. The Ministry's plan was to regularise the system, to allow for every firearm holder to be licensed.
Of the 140 firearms received from Region Seven indigenous villages, during the amnesty of 2015, only nine were serviceable and were being returned to the respective owners.
The Ministry will be working towards a new date for the distribution, DPI said.
The hinterland residents had expressed disquiet at the collection of the weapons stating that they were crucial for hunting and other important uses.
Around the Web