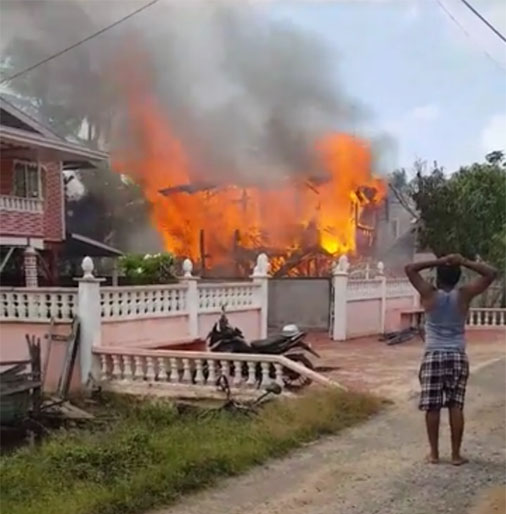 A Crabwood Creek pensioner yesterday afternoon lost his two-storey wooden house in a fire.
According to information gathered, Lalman Bhola, 79, of Lot 89 Grant 1802 Crabwood Creek, Upper Corentyne was cooking when he reportedly left his stove unattended.
Stabroek News was told that the man who lives alone discovered flames emanating from his kitchen sometime around 1.30 pm. Residents immediately rushed to his assistance and summoned the Corriverton Fire Station.
According to a neighbour, when fire-fighters arrived on the scene the entire house was already engulfed in flames. However, they were successful in putting out the fire before it could spread to neighbouring houses.
Bhola's entire house and all of his belongings were destroyed in the fire.
Clive McDonald, Second-in-Charge of the New Amsterdam Fire Station is pleading with citizens throughout the country to practice fire safety.
There has been a noticeable increase in fires in the Corentyne area over the past few months.
Around the Web