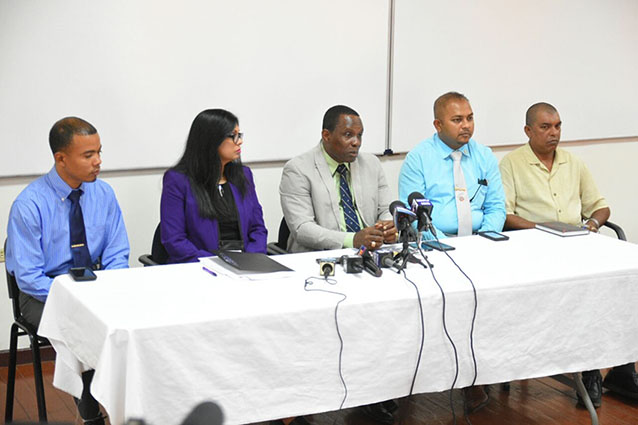 While praising officers of the Major Crimes Unit for the recent arrest and the institution of a charge in the murder of missing Prospect resident Shanett Savory, Crime Chief Paul Williams yesterday said he was convinced that they have a strong case against the accused, Davendra Ramdial.
While the body of Savory, who has been missing since August of 2016, has not yet been found, Williams reiterated yesterday that there was evidence upon which to charge Ramdial with the woman's death even as they continue to search for the body.
He said Ramdial has given them a general area where the woman's remains may be found but the weather had impeded the search, which will nonetheless continue. Two persons of interest are also still being sought by the police.
Williams was at the time sharing a press conference at the Police Training Centre, Eve Leary, with women's rights activist Dianne Madray—founder of Let the Women Speak, which is a network of women investing in other women and groups—and detectives Prem Narine, Suraj Singh and Devon Lowe, who worked on the case.
According to Williams, after Madray approached his office on April 16th, he immediately got detectives to start working on the case and success was seen shortly after. He lauded the training the police received under the Justice Improvement Programme, which he said assisted the detectives. He said while there are shortages in the police force, it is capable of conducting investigations and cracking cases.
Madray, who was part of the Caribbean American Domestic Violence Awareness (CADVA) organisation, which has now transitioned into the Let the Women Speak network, said that she appreciated the respect she received from Williams' office.
She said the air in the Criminal Investigation Department (CID) "felt much lighter" when she and Savory's mother, Dhanraji Murray, approached Williams' office.
"In view of my experience working on the Babita Sarjou case, which took six years, disappearing files and countless follow ups to eventually find her remains in May, 2016, Shanett Savory's case in 2016 was again prevented by said persons who may have intentionally caused this case to lag for almost two years due to their corruptive behaviour and lackadaisical attitude," Madray stated, while noting that members of her group have skills they can lend to the CID.
She pointed out that while Ramdial, who has been charged with Savory's murder, should have been a person of interest based on the information received, the officers who were initially investigating the matter did not follow up.
"Nevertheless, despite what had transpired, the CID team worked non-stop, even on weekends despite their heavy case load and lack of resources, to get investigations done in a timely, efficient and effective manner," she said.
Madray added that she would continue to give support to the police as the search for Savory's body continues and she expressed her hope that Murray could receive closure.
Madray pointed out that it is not just government's responsibility to fight domestic violence but for all to take actions, including families.
"You say nothing and do nothing, you will get nothing. Therefore, don't complain [that] it is the government's responsibility," she said.
Madray also called for members of the police force to be sensitised when working with victims of domestic violence and families of domestic violence homicides as every case matters and is as important as the one before. She added that there must also be ongoing training for the police in the treatment of victims and victim care and she committed her team to assisting and providing the support and to finding the resources to have such training available on an ongoing basis and as needed for those who may face disciplinary action. She noted that women need to feel safe and not intimidated by officers when giving a statement or reporting on domestic violence. She noted that as an advocate she has "personally experienced the attitudes that many women complain about" but added that she will continue her work and refuses to accept that change will not occur.
Madray also called for a computerised system to allow officers to write their investigative reports within a centralised system, avoid the loss of vital information and prevent evidence tampering, while also enabling easy access to past records for analyses.
Meanwhile, Williams said that the cold case unit of the police force is up and running and he called on members of the public to visit and bring information they might have on cases that have not yet been solved. He was asked about witness protection for those persons who may be fearful of coming forward but Williams said many times those persons who express fear are "compromised" as they speak to the police but might also be speaking to the persons who are implicated. He assured that if a person comes to the police and gives information, their identity will be protected and the information will be used.
Around the Web