The  Ministry of Public Health (MoPH)  and GuySuCo last week trained medical, clerical and administrative staff of the latter who will help ex-sugar workers reintegrate into the society.
A release from MoPH said that the workshop was part of initiatives targeting around 4,000 recently-retrenched Guyana Sugar Corporation (GuySuCo) workers some of whom MoPH Men's Health Coordinator, Dr Dennis Bassier said have fallen into a destructive lifestyle.
Bassier said that though the number of unemployed former sugar employees has decreased with the reopening of one of the estates, the programme is gathering momentum because the Ministry has realised the some affected persons have "gone on to engage in lifestyles that are not desirable as it relates to their health."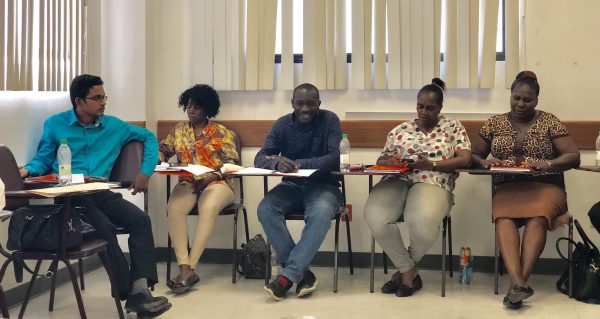 Dr Bassier and Bonita Harris, a Consultant/ Educator who has done extensive work in men's and adolescent health over the last years, led the five-day MoPH/GuySuCo training scheme which was held at the National Public Health Reference Laboratory.
The workshop targeted GuySuCo employees attached to various health centres and sugar estates in Essequibo Islands/West Demerara (Region 3); Demerara/Mahaica (Region 4); Mahaica/Berbice (Region 5) and East Berbice /Corentyne (Region 6).
According to the release, Dr Bassier said "we actually see this programme as necessary, going forward to actually assist them (sugar workers) in their specific health-needs as well as their social lives which will be impacting them more than their physical health."
He said the workshop, which is the first of its kind, will better prepare participants for dealing with issues facing men not only in the sugar industry but those accessing health care from the broader health sector. Bassier said he is confident that the beneficiaries of the workshop, are now skilled to organise in-house trainings and offer sensitisation sessions on men's health at their workplaces.
According to the release, one of the participants, Roy Porter, a Field Auditor from Enmore Estate described the workshop as impactful and one which raised awareness on a number of issues.
"From this men's health work, I've learnt a lot especially about self-awareness. Coming into this workshop I thought I knew a lot about myself but in the end I found out I didn't. Being self-aware is the first step in helping people and self-management is important", Porter said.
Samantha De Freitas, Midwife attached to the Mahaica/ Berbice Cotton-field Health Centre said the workshop has equipped her with a wide array of knowledge, which has now motivated her to launch a men's health clinic at the health centre by mid-May 2018, the release said.
"This workshop is very beneficial to me, as I thought I was coming to do chronic illness and diabetes that affect men but instead we had presentations on erectile dysfunction and prostate cancer which are very common among men", De Freitas stated.
The Men's Health Unit was first established in 2015 through the Maternal and Child Health Pro-gramme at the MoPH.
Around the Web