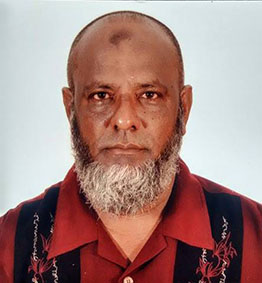 Saeed Hamid, also known as `Saho', 65, who went missing on April 19 was last seen entering a vehicle at the entrance to the Berbice Bridge, according to a taxi driver who said he dropped him there.
Hamid's family has been desperately searching for him and there have been few clues. The family says he would not leave his family for such an extended period without contacting them.
Stabroek News was able to track down the taxi driver whose car Hamid was last seen entering on the morning he disappeared. According to the driver, he dropped the now missing man off at the Berbice Bridge entrance where he boarded another vehicle which was waiting for him.
The taxi driver who spoke on the condition of anonymity yesterday told this newspaper  that he picked up the food vendor at his Lot 41 Queenstown, Corriverton address and took him to the market where he had wanted to meet with a friend. The driver said he then subsequently took the man back to his home where he uplifted a few items, a music box and amplifiers, and he picked up other passengers en route to New Amsterdam.
"Right through someone calling him on his phone and he telling them he coming, he tell the person when we left, when we deh Rose Hall (Town) he tell the person on the phone he at Rose Hall and then when we about to meet the bridge, the person call back and like them say they sending a car for him", the driver said.
As long as the authorities know which cell number Hamid was using they should be able to verify whether he was being frequently called during that time  of the day.
The driver said he arrived at the entrance to the bridge around 10. 30 am on the day in question where Hamid then boarded a white Toyota Premio.
The driver said that when Hamid boarded the car no-one else was present in the vehicle and it seemed as if they were heading in the direction to cross the bridge.
Stabroek News was also able to make contact with the friend at the Skeldon Market who Hamid met before heading to the bridge. The friend told this newspaper that Hamid relayed to him that a man had `trusted' over $160,000 in items from him and was reluctant to pay him. "He say how he hear the man go and live Parika so he say he going and look for the man", the friend said yesterday. "I know the man that take the items by seeing him around, he use to be here".
Studying
The friend noted he has known Hamid for years and doubt he would leave his teenage son who lived with him alone for such a long time.
"He went overseas and bring back things and that is what he selling and he told me that he could a stay over there but is he lil son he studying so he come, I don't ever think that he would leave the son alone".
Meanwhile, a police source yesterday confirmed that investigators had spoken with the taxi driver. They are yet to make any arrests. They spoke with Hamid's children several times over the weekend.
Relatives of the man are pleading with members of the public who may have information on his whereabouts to contact the police or his son on telephone number 611 6598.
The man's eldest son had relayed to this newspaper, that on the night of April 18 Hamid told his youngest son that he would be heading to Rosignol on Thursday morning and that the teenager should have some snacks that afternoon before heading to his lessons. The son noted that his father stated that he would be home in time to prepare dinner.
"Thursday night my small brother call me and after I answered he said daddy didn't come home, so I immediately call my dad and his phone was off, so I called back my brother and comfort him and say maybe dad stop out somewhere or stuck somewhere", he said.
However, on Friday the youngest son contacted his older brother in the afternoon after he returned from school and informed him that his father had still not returned home as yet. "I said to myself this doesn't sound right, so I does work in Georgetown I leave work and go up Corriverton".
He stated that after arriving in Corriverton they immediately started to enquire. According to relatives, a report was made at the Springlands Police Station on the morning of April 21st.
Hamid was scheduled to testify in a high court murder case and the police are also said to be addressing this angle.
Around the Web