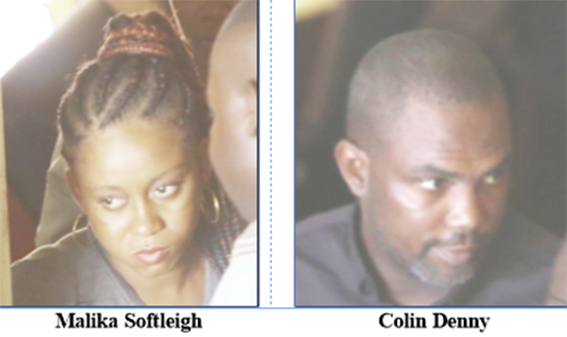 Three 100-pound gas cylinders, which anti-narcotics agents say were used to transport cannabis, were on Monday tendered as evidence in the trial of Colin Denny and Malika Softleigh, who are charged with drug trafficking.
The charge against Denny and Softleigh states that the two, between November 14th and November 15th, 2017, at Lot 6 'C' Tucville Terrace, trafficked 57.8608 grammes of cannabis.
Taking the witness box in the court of Principal Magistrate Judy Latchman on Monday in Georgetown was the Customs Anti-Narcotic Unit (CANU) rank who went to the location where the cylinders were left.
The rank stated that on November 15th, 2017, he and another CANU rank and police officer went to the Tucville location, where they knocked at the door for about 30 minutes and got no response. They subsequently gained entry into the property by force. The rank said they searched the entire home and found no one. He further stated that in the kitchen of the home, he found three gas cylinders. While inspecting the cylinders, he knocked each of them and they each made a strange sound. The bottom of each cylinder also appeared to have been cut and welded back together.
The ranks subsequently took possession of the cylinders. The witness added that they locked the home and left a CANU form that stated what was taken from the home and for the occupants to report to the CANU headquarters immediately.
The man told the court that the cylinders, which were marked and placed into storage, were subsequently cut open in the presence of the accused, their attorney James Bond and other CANU officers. He then stated that as they cut the first cylinder open, using an angle grinder, mud was found stuffed into the bottom along with black plastic. When the plastic was removed, nine parcels of transparent packages, containing leaves, seeds and stems, suspected to be cannabis, were found. The other cylinders were also cut and similar finds were made. The second cylinder contained 13 transparent parcels and the third contained nine. Each parcel was then marked. A sample was taken from each of the parcels and tested. The contents of each were confirmed to be cannabis.
After this was stated, CANU Prosecutor Konyo Sandiford made an application for the parcels and cylinders to be tendered as evidence. The parcels were lined up in order of how they were marked on the courtroom floor for the magistrate and the defendants' attorney to see.
The trial is set to continue today.
Around the Web