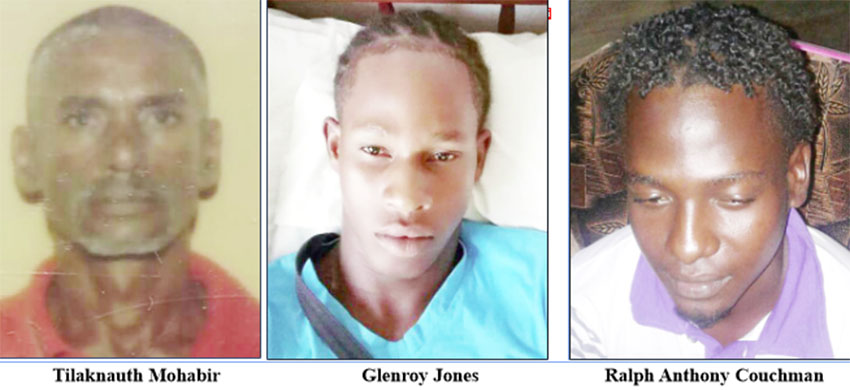 The families of some of the 16 Guyanese fishermen missing after pirate attacks off the coast of neighbouring Suriname remained desperate for word on their fates yesterday as authorities continued to search for them.
Although it had been four days since the attack, which some local fishers suspect is the result of an old rivalry between fishermen in that locale, Suriname's police, coast guards and fishermen were reported to be intensifying their search yesterday, while additional support was expected from authorities in French Guiana.
Suriname's Minister of Justice and Police Stuart Getrouw announced yesterday that the government will continue their searches for the men and there are plans to deploy an airplane to assist in the search efforts, Surinamese news agency Star News reported on its website.
The report stated that the authorities, including the coast guard, military and police, continue to look for survivors and have not lost hope that the men will be found alive.
Stabroek News was able to identify six of those presumed missing: Tilaknauth Mohabir, 50, also known as 'Kai;' Ganesh Persaud, 27, said to be a captain of one of the boats attacked by the pirates; Ralph Anthony Couchman, 19, also known as 'Burnham;' Vicky Persaud, 23; Ramesh Sanchara; and Glenroy Jones, 21.
While both Ganesh Persaud and Couchman hail from Number Two Village, East Canje, Berbice, many of the missing fishermen are said to be Guyanese who have been living in Paramaribo, Suriname for a number of years now.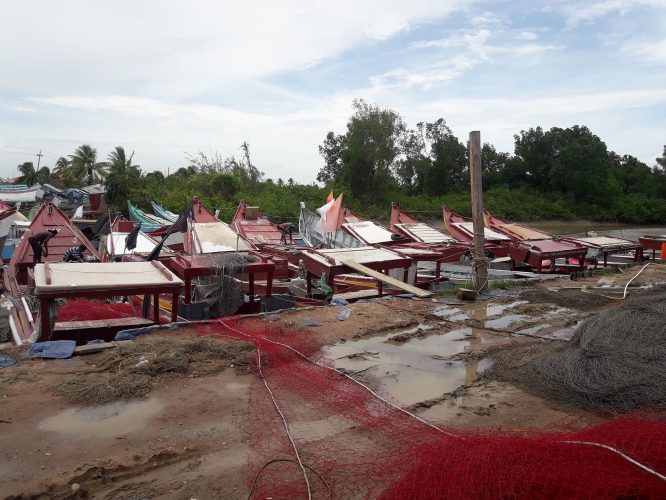 Mohabir is said to have moved to Suriname with his Guyanese parents at a young age.
Relatives of Mohabir, Couchman, and Vicky and Ganesh Persaud last evening related that their families have also joined the search efforts.
According to Navita Harry, 22, a cousin of both Couchman and Vicky Persaud, the men would normally spend three to four months in Suriname and work, after which they would venture home, spend some time and then return to Suriname to ply their trade.
Harry said that after news broke of the attacks, they immediately started to contact persons in Suriname but they got little information. She explained that they were subsequently told that the boat the men were working on was found with no fishermen on board, leading relatives to immediately venture to Suriname.
Several relatives of other men from both Suriname and Guyana have taken to social media to speak out on the attacks. For most, their only source of information is what is published in the media. Nonetheless, they were all hopeful that despite the odds, their loved ones may be found.
Last Friday evening, five pirates attacked four boats carrying a total of 20 persons just off the Suriname Coast. It was reported that each boat was occupied by five persons, comprising the captain and four fishermen.
The pirates, reportedly armed with cutlasses and guns, chopped and beat the fishermen before robbing them.
It had been reported that some of the men were ordered to jump overboard with their injuries, while others were thrown overboard with batteries strapped to their legs.
However, four men who survived the attack, swam until they were rescued by passing vessels. One of the survivors has been identified as Darmandew Persaud.
Guyana's Crime Chief Paul Williams yesterday told Stabroek News that he is keeping a close eye on the situation and is in contact with his counterparts in Suriname.
According to Williams, he was told by the Suriname police that while the attacks were carried out on Friday, it was only reported to them on Saturday. Williams said he was in receipt of information that Suriname police and coast guards, in a joint effort with fishermen, were intensifying the search for the 16 men yesterday.
The Crime Chief also noted that he was told that the attacks were carried out at Double Highbush, Suriname. However, he noted that the survivors had given Suriname officials two locations between which the attacks were carried out, and that was where the search was initially being focused.
Williams also said that it was confirmed to him that the men were beaten and thrown overboard with batteries tied to the legs of some.
Meanwhile, officials at the Number 66 Fishing Complex in Berbice confirmed that all of their boats have been accounted for since news broke of the attacks.
'Old stories'
Up to yesterday, fishermen on the Corentyne believed that the attacks were due to a longstanding rivalry between fishermen in the Double Highbush area.
According to some of the Guyanese fishermen, there are "old stories" between fisher folks in that area.
One Corentyne fisherman, who has been in the fishing business for over 20 years, related yesterday that there are certain territories reserved for certain fishermen. He stated, "Sometimes when you go in somebody territory they does get them eye pon you and that does lead to problems."
The man explained that he heard the attack happened at an area between the Cayenne, French Guiana border and Paramaribo, Suriname.
According to the local fisherman, Guyanese fisher folks need a certain licence to fish in that area. He said that sometimes some Guyanese fishermen rent licences from Surinamese and head to the area, and sometimes some head out illegally and fish there.
However, he further explained that mostly Surinamese fishermen ply their trade in that area, although most Suriname boat owners hire persons from Guyana.
"They does come over and hire people; some time from Mon Repos, Rosignol, all over," he stated. "Them people that missing mussy living in Suriname, because the area where that thing happen is far and we boats them don't go out there," the man speculated.
"Them does hire you and take you over and you live deh for six months and you come and go back if you want," he further explained.
It was also being reported yesterday that the pirates may also be Guyanese. The survivors had reportedly claimed that based on the way the pirates spoke during the attacks, they seemed to be from Guyana.
Common
Meanwhile, according to information gathered, on Friday night one boat owner was contacted by one of his captains, who informed him that word was out that "hijackers" were out at sea.
The boat owner told journalists in Suriname that he encouraged his captain to hide for two days in a bushy area. However, the captain told him that he would be heading down.
It was while heading down that that boat captain informed the owner once more that another one of his boats was found abandoned in the water. The boat captain boarded the boat, which bore chop marks, and noticed that the catch was missing and the fishing net was in the water. The five fishermen who were working on that boat are still to be accounted for.
Star News had earlier reported that the members of the Fisherman's Association had themselves joined the search efforts, deploying their own helicopter to search for the missing fishermen.
Chairman of the Association Willem Mohamed-Husein told Stabroek News yesterday that the search bore no results, but informed that a meeting was to be held last evening with a representative of government to determine the way forward.
Asked if he had heard any reports that the attack stemmed from a personal feud between the two groups, the Chairman responded in the negative, while relating that attacks such as this one were not uncommon in the area, although he noted that they usually occur on a much smaller scale.
Star News reported that an in-depth investigation has been initiated by the National Coordination Center for Disaster Relief, the National Army and the Ministry of Agriculture, Animal Husbandry and Fisheries in Suriname.
In light of the attacks, Getrouw also reportedly mentioned the need for a GPS system and the creation of special organisations to create safer environment for the fishermen.
De Ware Tijd Online had reported that Surinamese Coast Guard Director Jerry Slijngard stated that there was the need for the introduction of a Vessel Monitoring System, which will allow location monitoring as well as carry features such as a panic button and emergency signal. It was stated that such a system may be operational within a month's time. (Additional reporting by Dreylan Johnson)
Around the Web