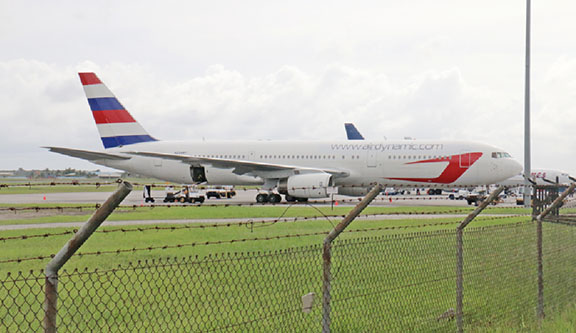 The refunding process for passengers who were affected by Dynamic Airways' decision to cease operations in Guyana, was off to a smooth start yesterday, with more than 80 persons having collected their vouchers.
The Ministry of Public Infrastructure, in a press statement issued mid-April, had announced that the process would begin on May 2.
Jason Duport, an official from the Ministry, noted that the process got off to a good start and said the day ran without any hiccups.
Stabroek News was further told that while the accounts department of the Ministry is equipped to service 80 affected passengers a day, yesterday saw persons exceeding that number. This, however, did not affect the process since according to Duport, all the cheques have been prepared and are just waiting to be uplifted by the respective parties.
The Ministry in its statement, had noted that the refunds would be issued Mondays to Thursdays from 09.00hrs to 15.00hrs and Fridays from 09.00hrs to 14.00hrs at the Ministry of Public Infrastructure's Accounts Department, Fort Street, Kingston.
Passengers who are seeking to uplift cheques are asked to take along documents of identification, including either their national ID card or passport, as well as proof of ticket purchase.  In cases where an individual is appearing on another's behalf, persons are asked to have with them an authorization letter with two witness signatures from passengers whose names appears on the list; along with an identifying document (national ID card or passport only) of the person uplifting the refund.
Meanwhile, Stabroek News understands that passengers who do not appear on the identified dates will be allowed to appear during the "fallback period"— May 14, 2018 to May 25, 2018.
It is understood that a list was submitted to the Ministry by Roraima Airways with a total of six hundred and nine passengers who are eligible for the refund.
Electronic copies of the list are also available on the Ministry of Public Infrastructure's website (www.mopi.gov.gy) and its Facebook page, as well as Roraima Airways' website (www.roraimaairways.com) and Facebook page. Passengers may also check with their travel agencies to confirm their appearance on the list.
Passengers are also urged to contact the Ministry of Public Infrastructure on 225-4023 or 227-5344 for more information if necessary.
Dynamic Airways suspended its operations on October 3, 2017 to facilitate the re-organization of its Chapter 11 Case under which the airline filed for bankruptcy.
The company in statement that followed the announcement, had reassured the Guyanese public of its commitment to honouring all outstanding financial obligations whether to passengers, airport authorities or the Guyana Civil Aviation Authority.
This later resulted in the Ministry initiating the process to access a bond for the sum of two hundred thousand United States dollars (US$200,000), which was lodged by Dynamic International Airways, LLC, in collaboration with their local handling agent, Roraima Airways Inc.
Around the Web