As of last evening, three bodies suspected to be those of fishermen missing following a horrific piracy attack were spotted at various locations in  Surinamese waters.
According to information gathered, one body was seen on a mudflat at Wia Wia Bank, while another was found at a river side in Weg Naar Zee. The location for the third is still unknown to this newspaper. Sources last evening confirmed to Stabroek News that the bodies were spotted by an airplane pilot who was involved in the search.  Sixteen men are missing and the majority are thought to be Guyanese
While efforts were made to retrieve the bodies, this newspaper was informed that the fishing boats initially utilized to make the trip could not access the locations where the bodies were spotted, and so Coast Guards last evening were awaiting the tide to head into the area. It is expected that they will return sometime today.
As was previously reported, family members and friends of the missing fishermen have also joined the search efforts.
However, while relatives of the men in Suriname and Guyana await news about the fate of their loved ones, they are pleading with the authorities here  to step in and lend assistance to the search that is presently underway.
The missing men identified by this newspaper so far are: Tilaknauth Mohabir, 50, also known as 'Kai'; Ganesh Persaud, 27, a captain of one of the boats attacked by the pirates; Ralph Anthony Couchman, 19, also known as 'Burnham'; Ramesh Sanchara; Glenroy Jones, 21; Randy Burnette; Ramnarine Singh; Bharat Heeralall also known as "Record", 49; Bobby Ibrahim, Sunil known as Poddock and Mahesh Sarjoo.

While Ganesh Persaud, Couchman and Burnette hail from Number Two Village, East Canje, Berbice, and Heeralall from Annandale, East Coast Demerara, many of the missing fishermen are said to be Guyanese who have been living in Paramaribo, Suriname for a number of years now.
According to boat owner Heamanlall Ramsaran, Ganesh Persaud, Couchman, Sherwin (only name given), "Alkaline" and another, were part of his boat crew. Those men are still presumed missing.
Last Friday evening, five pirates attacked four boats carrying a total of 20 persons just off the Suriname Coast. It was reported that each boat was occupied by five persons, comprising the captain and four fishermen.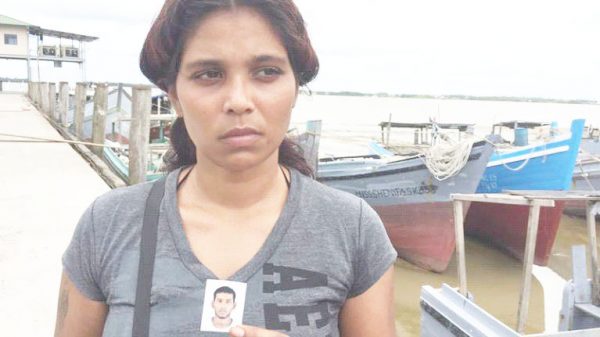 The pirates, reportedly armed with cutlasses and guns, chopped and beat the fishermen before robbing them.
It had been reported that some of the men were ordered to jump overboard with their injuries, while others were thrown overboard with batteries strapped to their legs.
However, four men who survived the attack, swam until they were rescued by passing vessels. One of the survivors has been identified as Darmandew Persaud.
Guyana's response to attack unsatisfactory
Couchman's cousin, Malinda Bowery, 29, yesterday related that she is in direct contact with her relatives who are searching in Suriname.  She said they are dissatisfied with the way in which the searches are being done.
According to Bowery, Couchman left for work in Suriname over a month ago.
"He does left for work and after three, four months he does come back," she stated.
Bowery noted that her cousin never reported to them that the boat he was working on had been attacked in the past. She said, "If he been ever attack he would a never go back but this is the first time he go and we never heard from him since".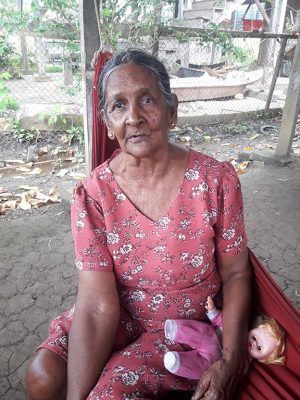 "I don't think enough is being done, the Guyana authorities are not doing anything to my satisfactory, it's like people life at this point of time in this country doesn't matter," Bowery said.
She stressed that at this point in time the authorities in Guyana need to step in, since most of the men are Guyanese.
Bowery expressed worry that one of the bodies found could be that of her young cousin, however, she said at this time, they are hopeful until they receive confirmation from relatives.
Meanwhile, Couchman's grandmother, Daris Harryhar, 75, is awaiting word that her grandson is still alive.
Yesterday, the woman sat in her hammock, almost breaking down into tears as she said that she would never give up hope that her grandson would return. She noted that the lad would assist her financially and that he was a quiet person.
The woman is also calling on the local authorities to step more deeply into the matter.
"Unto now me na hear nothing from this government, them people a Guyanese, unto now me can't hear nothing. This government rotten," the frustrated grandmother said yesterday.
Ganesh's cousin, Navita Harry, 22, related yesterday that his wife has been in Suriname since news of the attacks broke. However, she too is hopeful that the men may be found.
"At least if them search, find the bodies budday. Them na do nothing. We need them over here to step in and help too, we can't just give up", the cousin said.
Heeeralall's daughter, Lisa Heeralall, noted that her father has been a fisherman for over thirty-five years now. She said that he started working in Suriname over twenty years ago. According to the daughter, the man left home in January and headed back to Suriname to work. She also said that the Wednesday before the attack was the last time she spoke with him.
"He calls me `Baby', so he said, "Baby I'm going out to sea now, you won't hear from me till I get back," and he said, "love you and take care".
That was the last time the woman heard from her father.
She also explained that the man, a father of two, would keep in contact with her when he is out at sea at points where he would pick up a signal on his cellphone. The woman said the family is hopeful still, adding that her father was a loving and caring person.
Meanwhile, Stabroek News was told yesterday that police in B Division were on the hunt for suspected pirates.
According to a source in Suriname close to the investigation, the suspected pirates resided in Paramaribo, Suriname for some time, but are actually Guyanese.
According to the source, a survivor has since identified three suspected pirates to investigators in Suriname.
One of the main suspects was identified as "Crack head", originally from Rosignol, West Coast Berbice, Guyana, but who  has reportedly been living in Paramaribo, Suriname.
The survivor also identified a certain boat with a certain colour to the police in Suriname. Stabroek News was told that investigators in Suriname were attempting to make contact with fishermen in Guyana to seek information on the identified boat.
Meanwhile, the source is claiming that information suggests that the piracy attack was a retaliation from a rivalry between a certain group of fishermen in Paramaribo, Suriname.
"Laxity of the Government"
Guyana's government is not the only one that has been criticized for its handling of this tragedy.
According to online Surinamese news site NOS, the Suriname government is being accused of being lax in its approach to handling the incident. The article, headlined "Anger and disbelief about slow search after pirate tragedy, Suriname", noted that it took more than a day before Coast Guards initiated a search.
"When we reported Saturday morning to the police, the official said that  1,000 US dollars was needed to buy fuel for a helicopter," boat owner Ramsaran was quoted as saying during a meeting involving the Fisheries Collective and the Coast Guard, reportedly going on to question whether the government did not have money to purchase fuel.
The article stated that Coast Guard-Commander Colonel Jerry Slijngard was "under attack" during the meeting, and was pressed to provide an explanation for events in question.
"He is invited to explain the course of events. He admits that mistakes have been made. While the police were already alarmed on Saturday morning, the Coastguard-boss only learned at half past ten in the evening that something had happened," the article reported.
"Not earlier than Sunday morning a ship of the coast guard sails, but it has to return due to a defect. The only other ship that the coast guard has, leaves a few hours later, but must also return, this time because they forgot to bring police officers on board. Slijngard cannot say anything about the $1,000 for helicopter fuel. `I am not from the police, but it is clear that we need to evaluate a number of things,`" the new site reported.
Around the Web