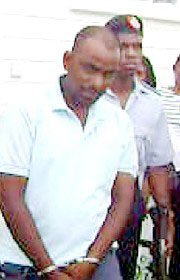 The Black Bush Polder man who drove the truck in the gruesome Corentyne accident which left 12 persons dead in 2010 was yesterday found guilty on all 12 counts of causing death by dangerous driving at the  High Court in Berbice.
Chetram Moonsammy, 45, was found guilty by a mixed jury. The indictment against him was that on October 29, 2010  at Suzanna Village, East Berbice, he drove motor lorry GLL 8863 in a manner dangerous to the public, resulting in the deaths of  Oudit Narine Babulall, Marques Ault, Nazaradin Mahinudin, Salmaa Razac, Orlando De Mattos, Janet Baker, Cindy Jaggernauth, Lalita  Mendonza, Patricia  Asgerally, Josiah Khan, Salima Juman–Dinmohamed and  Chetram Ramphal.
After the verdict, Justice Brassington Reynolds sentenced the man to nine years imprisonment on each count. However, he will serve the sentences concurrently.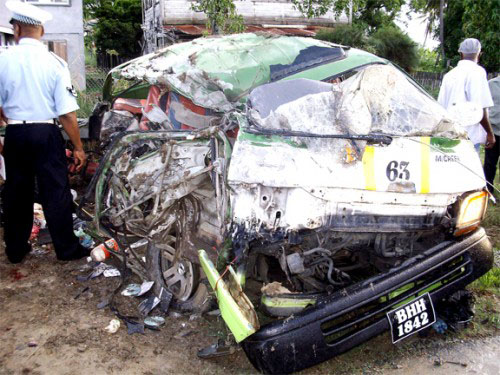 Moonsammy was represented by Attorney at Law, Mursaline Bacchus.
The man in his unsworn statement claimed that the mini bus, BHH 1842 attempted to overtake another vehicle and slammed into the truck he was driving. In his defence he had said that the accident and the death of the persons were not his fault.
Representing the state was Prosecutrix, Towana Hardy, who called fifteen witness.
The survivors of the accident, Sham Jaggernauth, Tamika Fraser and Ashwantie Singh testified that they saw the truck which was being driven by the accused attempting to overtake another vehicle and slam into the bus.
They also testified that the weather was gloomy that day, the roads were wet and that traffic was heavy.
Bacchus requested that his client be given a non-custodial sentence, since he waited eight years for a trial, during which, he too was suffering.
However, Justice Reynolds noted, that a message needs to be sent and road users need to be protected. He also noted that twelve persons lost their lives and it is left unknown as to what they could have contributed to society.
The bus after the accident
Around the Web