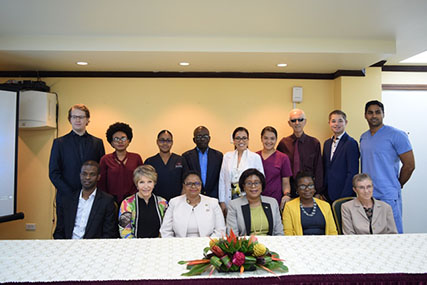 The Ministry of Public Health yesterday introduced seven public service announcement (PSA) videos to educate the public on the signs of a heart attack and treatment available at the Georgetown Public Hospital.
According to the Department of Public Information (DPI), the launch and screening of the PSAs were held at Cara Lodge, Quamina Street.
"The release of these videos will greatly assist us in supporting this campaign of heightening awareness at all levels in every region so that measures can be put in place to help decrease the morbidity and mortality of coronary heart disease in Guyana," Minister of Public Health, Volda Lawrence said.  
Cardiovascular disease accounts for some 32 percent of deaths in Guyana while an estimated 22 percent of Guyanese are living with the disease, Lawrence said.
DPI said that the PSAs were developed in collaboration with the Guyana Programme to Advance Cardiac Care (GPACC). Founder and Director of GPACC, Dr Debra Isaac, noted that education is vital to advancing cardiac care in Guyana.
DPI added that the Ministry of Public Telecommunications will soon begin distributing the PSAs to local stations. The announcements will also be adapted for radio broadcast. Minister of Public Telecommunications, Catherine Hughes, singled out the media for the important role it has to play in this process.
The PSAs include information on the signs of a heart attack. It explains the treatment available at the GPHC and the reasons to trust the advice of health care providers. The announcements also provided testimonials from several persons including attorney-at-law Nigel Hughes and singer Dave Martins.
Around the Web