A McDoom, East Bank Demerara resident was rudely awakened early yesterday morning after a car crashed into and destroyed a large section of her fence.
According to reports and eyewitness accounts, a silver-grey Toyota Premio was travelling south on the eastern carriageway of the East Bank Highway around 6 am when the driver noticed a woman attempting to cross the road.
To avoid hitting the woman, the driver reportedly swerved to the left and lost control of the vehicle. Because the road was wet at the time, the vehicle started to slide out of control and came to an abrupt stop after smashing through the concrete fence.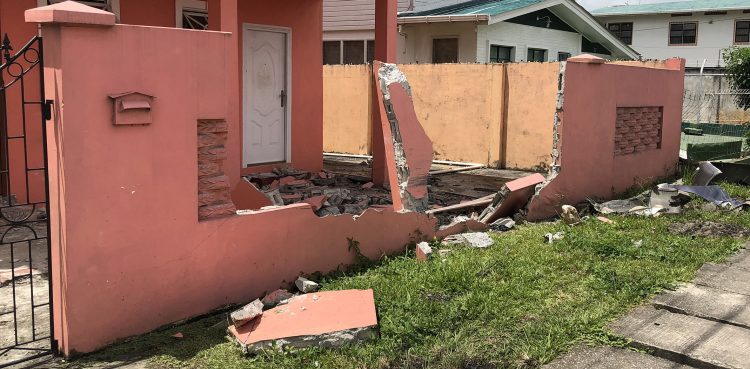 "All I remember is seeing this car pacing down the road like he in a hurry and about to take off from the ground. They had a woman who de want go across the road and like she mistime it and run when the car coming. Lucky thing the car man see she and pull he brakes and pull the wheel to the right but the road de wet so he lose control and fly into the people" fence," an eyewitness said.
Residents and onlookers said that no one was injured in the accident. They said it is a miracle that no one was hurt since persons are usually walking along the side of the road where the car careered into the yard and that persons are usually in the yard around the spot where the car went through the fence.
"Is one of them things you does call a miracle. Especially for that early, people does usually deh walking up and down the road at that time and them people does usually deh in the yard. Watch how he break down the whole piece of fence. He fly through with all the speed he de going with," another eyewitness related.
According to the owners of the house, the driver of the vehicle has agreed to repair the fence.
Around the Web