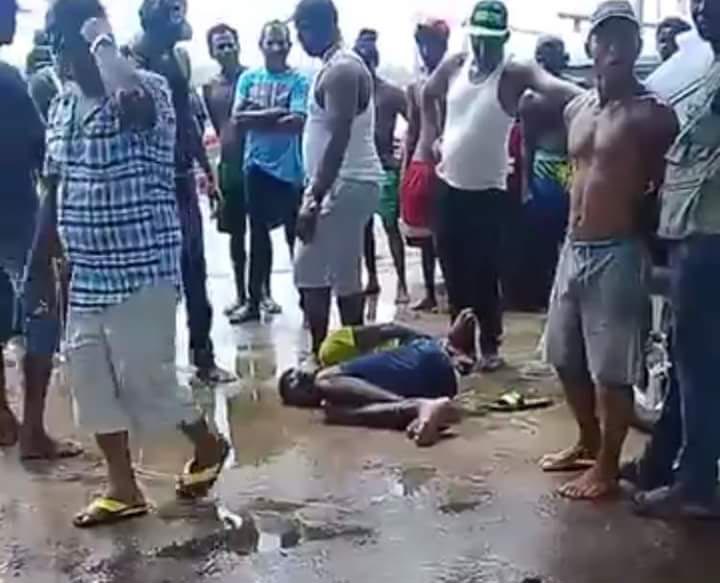 A Guyanese fisherman was yesterday arrested in Suriname and is being questioned by law enforcement there about the April 27th piracy attacks that have left 3 dead and 12 missing.
The suspect,  who is known by the alias 'Crack head', and who lives and works in Suriname, was held by  fishermen yesterday morning in Commewijne, Suriname, after they suspected that he had a hand in the attack, since he was one of the first persons identified by survivors.
Relatives of the missing fishermen said that they were told yesterday by persons that the suspect they captured out at sea told them that he was involved in the piracy attack in Surinamese waters.
A police source in Suriname yesterday afternoon confirmed that the suspect who investigators were on the hunt for is under arrest. The source, not wanting to confirm any confession, noted that the suspect was being questioned yesterday afternoon.
However, relatives of the missing fishermen told this newspaper, that after receiving a thrashing from the locals, the suspect told the local fishermen that he was involved in the attack, but that he and a group of men acted on instructions from someone.
On Saturday morning several persons were held in Suriname including a female who was questioned and released. Suriname lawmen had also been questioning boat owners as well.
The authorities in Guyana have kept three men in custody, who they are continuing to question over the attacks.
The Surinamese source had previously told this newspaper that investigators were also speaking to close relatives of the boat owner who had been shot and killed in a drive-by shooting in Suriname, on the 29th March of this year.
The Surinamese police's initial theory is that the brother of the victim of the drive-by murder, had planned the attack as an act of revenge. The brother is one of the persons being held in custody in Guyana.
Stabroek News was also told, that investigators in Berbice are working to gather evidence against the brother (boat owner) they have in custody.
Meanwhile, the wife of a survivor of the attacks, Sherwin Lovell, 42, has passed away. Lovell informed that his wife who took ill before he went missing, succumbed in Suriname to an apparent venomous bite.
Lovell, a Guyanese national recovering from the attack, now has to mourn the death of his wife, Michelle Amanda Carol.
He told Stabroek News that the woman was bitten on her hand on the 17th of April, a few days before he left for sea, "I don't know is wah but the thing that bite she is a kinda poison something and it start swell, she went to the hospital and them give she some treatment and she drinking it but then when she drinking the tablet she na want eat nothing, just liquid, liquid and this morning I wake up she die".
The man explained, that his wife also suffered from low pressure as well and his going missing for several days had increased the stress on her. "The hospitals over here (you have to pay) so if you don't have money over here you can't get treatment", he noted.
Lovell, a father of one, explained that due to his wife's death he was unable to meet with Public Security Minister Khemraj Ramjattan yesterday. He said, "This is so hard for me with the things I go through and now this happen to me, it hurt me".
Around the Web