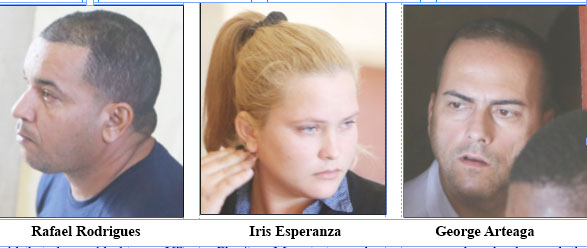 Three Cuban nationals were yesterday separately charged and remanded over fraud and forging United States visas.
The first set of charges read against Rafael Rodrigues, 41, Iris Esperanza, 20 and George Arteaga, stated that they, on May 5th at the Cheddi Jagan International Airport, Timehri with intent to defraud, uttered to Sachin Ram, a Customer Service Agent attached to the Timehri Handling Incorporated, Republic of Cuba passports in favour of themselves with forged US visas inserted, knowing same to be fake.
The second set of charges against Esperanza and Rodrigues alleged that they, between April 22nd and May 5th, at Georgetown, conspired with persons to forge US visas in Republic of Cuba passports.
Arteaga was also charged with conspiring with persons between April 28th and May 5th, to forge a US visa in his Republic of Cuba passport.
All three of the accused pleaded not guilty to the charges read.
Rodrigues told the court that he came to Guyana to visit, while Esperanza told the court she came to Guyana because she was told that she could obtain a US visa if she came here.
Chief Magistrate Ann McLennan placed all the accused on remand and adjourned the matters until May 15th.
Around the Web