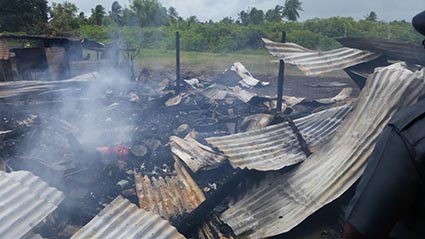 A family of six is now homeless after a fire of unknown origin on Monday destroyed wooden house at Cotton Tree Village, West Coast Berbice.
In a bid to escape the fire, five members of the family suffered burns on their hands and feet, two are hospitalised at the Fort Wellington Hospital.
Jairam, 49, of Lot 28 Cotton Tree Village, West Coast Berbice, his wife, Sharon Persaud, 44, and their four children narrowly escaped the fire which is suspected to have started in the lower flat of the house by jumping through a bedroom window, landing on a shed attached to the house and then jumping to the ground.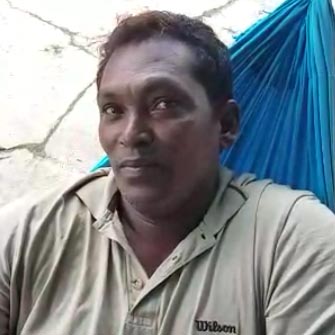 However, while jumping on the shed which was hot due to the flames below, the man, his wife and three oldest children, ages 18, 11, 10 sustained burns on their hands and feet.
His wife, Persaud, who sustained the most severe burns and their 18-year-old daughter have since been admitted to the Fort Wellington Hospital. The couple's two-year-old child escaped unharmed.
According to Persaud's sister, Sunita Baichan, 32,  minutes to 1 am on Monday the family was alerted that flames were issuing from the lower flat of Persaud's house.
Baichan explained that she resides on the said lot in front of her sister, and that her sister's father was spending the night in the bottom flat of Persaud's house.
According to Baichan, it was the father who sounded an alarm about the fire, since he was awoken from his sleep by the heat.
She said, the man started to scream and woke Persaud and her husband who immediately grabbed their children and escaped through the window.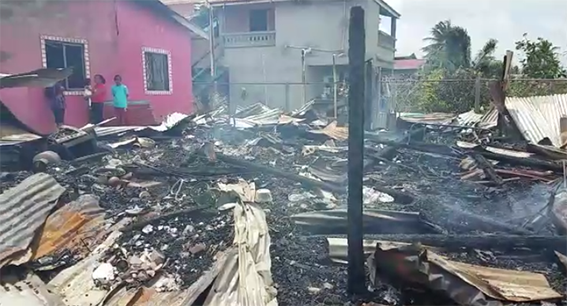 Baichan also noted that the back of her house was scorched from the fire as well.
However, she thanked the fire service who she said responded in a timely manner, soaked her house in order to prevent it from catching ablaze and then went on to battle the fire which had engulfed her sister's house.
Persaud's entire house was completely destroyed in the fire, the family was unable to give an estimate of their losses.
Persaud's husband, Jairam is presently unemployed, as he was involved in an accident sometime back and sustained a knee injury.
Baichan on Monday noted that the family will be staying with their relatives. However, they are seeking assistance to rebuild and also to continue to support their children in school. The family can be contacted on telephone number 650 3045.
The fire service has since launched an investigation.
Around the Web