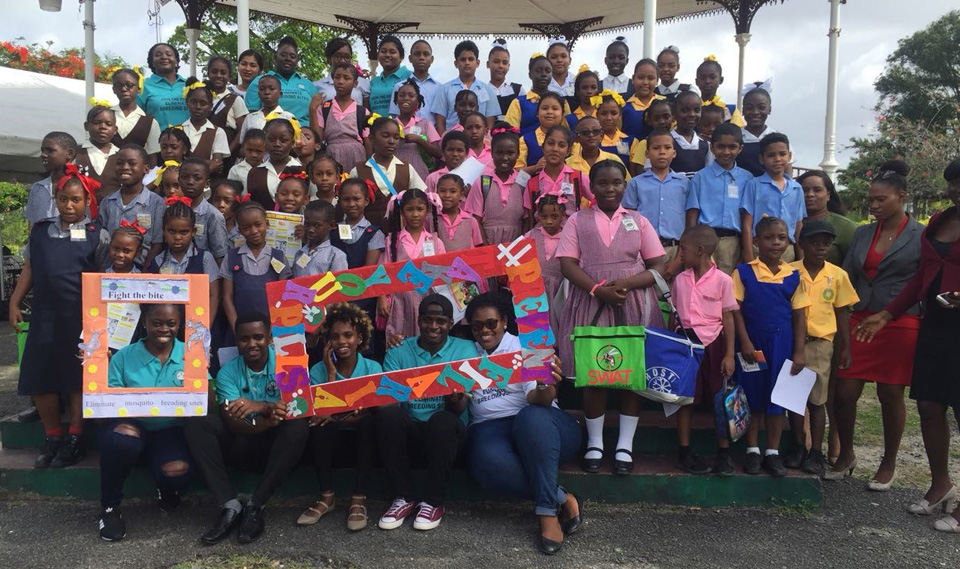 Special attention has been placed on the elimination of breeding sites, in and around the home, as activities have been undertaken by the Vector Control Unit of the Ministry of Public Health for Mosquito Awareness Week 2018.
Mosquito Awareness Week is an effort by Guyana and territories of the America, promoted by PAHO, to raise awareness and to work with communities on links between mosquitoes and the diseases they transmit such as Dengue, Chikungunya, Zika, Yellow Fever, Filaria and Malaria.
The slogan under which the observances are being held is, "Join the fight eliminate breeding sites; Fight the bite, destroy mosquito breeding sites."
Dr. Cassandra Alonzo, Aedes Coordinator for Vector Control, said the observances began on Sunday with a march which involved members of the Guyana Defence Force (GDF), staff of the Vector Control Unit and other stakeholders.
Stabroek News understands that the activity continued on Monday with an interactive session at the Promenade Gardens, where students from 19 primary schools around Central Georgetown were given the opportunity to learn how to identify and eliminate mosquito breeding sites, as well as the different species of mosquitos.
According to Dr. Alonzo, the basis for this specific interaction comes after a study last July where they began mapping the mosquito population in Georgetown, with a special focus on Aedes mosquitoes.
It was from those areas where the study was conducted that schools were selected to be a part of Monday's session.
"We found that in 19 areas of Guyana there is a very high risk of transmission of Dengue, Chikungunya, because of the Aedes mosquito, and some of the places we found high epidemic risks for mosquitoes are West Ruimveldt, North Ruimveldt, Wortmanville, Hadfield Street, and Sophia. So the primary schools located in those areas were the ones that were invited," Dr. Alonzo said.
"We had twelve students from every school and we brought them to share with them first what  Mosquito Awareness Week was about, reason for having it and we also educated them on the different species we have in Georgetown, which are the Anopheles, Culex and Aedes mosquitoes. They were showed how to identify the different species, as well as breeding sites for mosquitoes," she added.
According to Dr. Alonzo, it is the hope that through interactions such as the one on Monday, they would be able to have a bigger impact on eliminating breeding sites since awareness is being raised at a younger age.
The week will continue with both television and radio appearances by various departments of the Vector Control Unit to get the message out even further.
The awareness campaign is also expected to be taken to Mahdia where representatives from the three departments, Dengue, Malaria and Neglected Infectious Diseases will be going to the mining community to assist with the execution of awareness activities.
In addition, the team is also expected to meet with health professionals from the hospital to discuss and undergo refresher training.
Around the Web