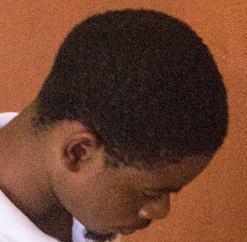 A 23-year-old man was yesterday remanded to prison after he was read charges of attempted murder, armed robbery, and firearm use, one of the incidents stemming from an attack on two Kitty market vendors in March.
Jason Jupiter, 23, of Lot 8, West Front Road, was brought before Chief Magistrate Ann McLennan, who read the three charges to him.
The first charge against the accused stated that he, on March 2, at Laing Avenue, discharged a loaded firearm at Randy Sampson, with intent to commit murder.
The second charge alleged that the accused, on April 2, at Saffon Street, Georgetown, discharged a loaded firearm at Doodnauth Danasri.
The third charge stated that on the aforementioned date, Jupiter, while armed with a gun, robbed Hardai Danasri of $150,000.
Chief Magistrate McLennan remanded the accused to prison in relation to all the charges read.
His next court appearance is expected to be June 1.
This newspaper had reported that Doodnauth, 62, called 'Hardat' of Windsor Forest, West Coast Demerara and his wife Meena Danasri were attacked at about 5:30 PM, on March 2, at their stall outside Twin's Drug Store, Saffon Street by four unmasked men, one of whom was armed with a suspected .38 revolver.
Doodnauth was shot once in the region of his temple and to his hand and according to his wife, the bullet grazed his abdomen.
The police had earlier stated that Meena and Doodnauth were selling at the market when they were attacked by the bandits.
"Two men, one armed with a handgun and the other with a knife, pounced on her [Meena] and demanded the cash from her apron," the police said.
As a result, Doodnauth rushed to her rescue and was shot in the head, they added, while noting that the apron containing an undisclosed amount of cash was handed over to the suspects, who escaped on a bicycle.
Around the Web