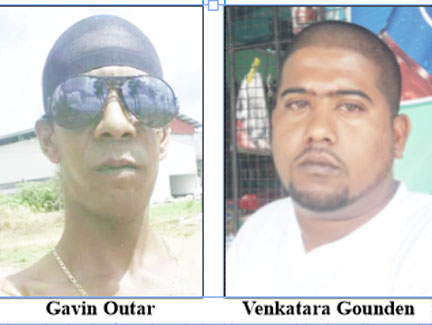 Although relatives are certain that the badly decomposed body which washed up on the Number 63 Beach, Corentyne, Berbice on Thursday is that of missing fisherman Gavin Outar, the police have taken samples from his older brother, in order to make a positive identification, before the body is released to relatives.
The body was identified by relatives on Thursday by a tattoo, as being that of Gavin Outar, 33, originally from Sheet Anchor Village, East Canje Berbice. An autopsy, which was done by Dr. Nehaul Singh on Outar's body yesterday afternoon, was inconclusive.
According to relatives, Outar was one of the missing fishermen in the April 27 piracy attack. After news of the attack broke, relatives in Suriname had contacted Outar's relatives in Guyana and informed them that he was on one of the boats which were attacked by pirates.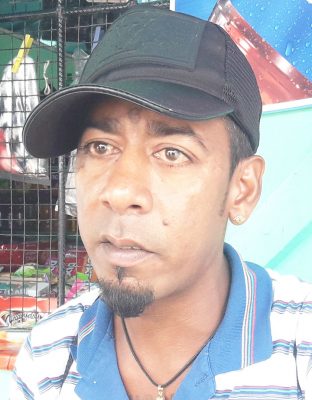 The family in Suriname had been on the search for him, and his older brother Sewkumar Outar, 38, of Lot 60 Eccles, East Bank Demerara, was expected to head to Suriname in a few days, once he had received his passport to join the search.
Sewkumar yesterday told Stabroek News that he had the opportunity to view the body found at the Number 63 Beach, at the Bailey's Funeral Parlour, which is located at Number Five Village, West Coast Berbice.
"This is me brother because the tattoo on he chest…I know that tattoo, nobody else na get one like that", said the distraught brother yesterday.  He added, "I was suppose to go Suriname and help look, me been lost me passport so me been a try get one new one to go".
The brother noted that while they are somewhat certain that the body belongs to their brother, he understands the need for a DNA test to be done.
Sewkumar stressed that after receiving messages from relatives in Suriname that his brother was one of the persons who were missing in the attack, the family was still hopeful that he would have been one of the survivors.
"Everybody was hoping let he be one a the guys that missing and find (alive) but now how he (body) show up deh is bare sorrow for us…I wish we didn't see the body and let we get in we heart he missing to, because how the body deh", said an emotional Outar yesterday.
Outar further noted that he believes the persons responsible for the attack should be given a death penalty for snatching the life of their loved one.
"… them na deserve fuh take taxpayers money and mine them," he stated.
Childhood days
Meanwhile, Outar's younger brother, Venkatara Gounden, 30, also known as "Junior", recalled his childhood days with his now deceased brother, noting that it is indeed a tragic moment for his family.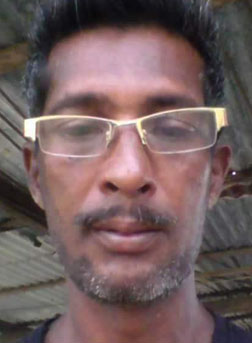 "We have a lot of things to remember him by. We thank God they found the body, at least we could bury him and he could rest in peace now," said Venkatara.
Venkatara shared a different opinion from his older brother in regards to the need for DNA testing, explaining that it is frustrating to wait on a DNA result, especially after having viewed the body, which he is convinced is his brother's.
The man labelled the perpetrators responsible for the attack as "animals" and said, "I think they should not be sentenced to life but to death, because these are animals to do human beings like that".
He added, "I think the police should continue to investigate and search all the shores because other people family bodies need to be found and they should not stop search and they should search Guyana over, you can't just get these people (families) worried and wondering".
The younger brother also said that his now late brother had relayed in the past that he had been attacked by pirates.
"My brother tell me already is several time pirates does go but they does take the fish and fish glue and leave, this is the first time they start chopping them up like this, to me", Venkatara said, adding:
"Is a normal thing about piracy in the Suriname water and Guyana water. I think now is the time the police and other authorities should do something about it."
The family last saw the deceased man two years ago, when he visited Guyana. His brothers recalled that they had had a small celebration, after which their brother had returned to Suriname, where he had been living for four years before meeting his tragic death.
They also noted that their brother enjoyed plying his trade out at sea.
"… since he small he working fishing work, he like take responsibility and na ask family for nothing. Fishing work make he go Suriname, he did like it bad", Sewkumar explained.
In the April 27 attack, during which fishermen were beaten, chopped and thrown overboard with weights attached to their legs, only five men—Daramdrew Persaud, Sherwin Lovell, 42, Anil Lall, 18, of Marienburg, Suriname, Marvin (only name given) from Meerzorg, Suriname and another fisherman (unidentified), survived.
With the exception of Outar, whose badly decomposed body was discovered on the Number 63 Beach shore on Thursday, the authorities in Suriname have so far recovered three bodies.
Relatives of all the suspected missing fishermen were asked to give samples for DNA testing in order for a proper identification to be done before the Surinamese authorities release the bodies.
The fishermen missing have been identified so far as: Tilaknauth Mohabir, 50, also known as 'Kai'; Danesh Beharry, Ralph Anthony Couchman, 19, also known as 'Burnham'; Ramesh Sancharra, 48; Glenroy Jones, 21; Ramnarine Singh; Bharat Heeralall also known as "Record", 49; Sunil known as Poddock, Mahesh Sarjoo, 35, Rajkumar Bissessar and Lookesh Decouite, 50.
Beechan Hardeo, called Ganesh, 32, captain of the boat in the second piracy attack, which occurred on May 2, is still missing.
The second attack reportedly happened on the coast of the Matapica Canal, approximately eight miles from the Paramaribo River mouth. The captain was reportedly chopped and thrown overboard by his attackers, while the other crew members have since been found and taken to safety.
Hardeo's brother had previously called for the authorities in Guyana to launch a search in the Corentyne River. He had noted that it would not hurt the authorities to make a few searches in the river, at a few points which are used by fishermen to head to Suriname from the Corentyne Coast.
Around the Web