Four laureates including Guyanese entrepreneur Andrew Boyle were inducted by the Anthony N Sabga Caribbean Awards for Excellence, at its first awards ceremony to be staged in Jamaica on Saturday night.
Held at the Pegasus Hotel, the Caribbean Awards have been in existence since 2005.
According to a release from ANSA, Boyle recalled his origins in a remote region of Berbice and urged the audience to "don't forget how to dream", as dreams had brought him to the success he enjoyed. He and fellow awardee Dr Adesh Ramsubhag also thanked their communities and their parents for being instrumental in their formations.
The mothers of Boyle and Ramsubhag were present along with family members.
Other laureates included Jamaican Kei Miller, a poet and novelist who has won prestigious prizes, like the OCM Bocas Prize in 2017 in Trinidad.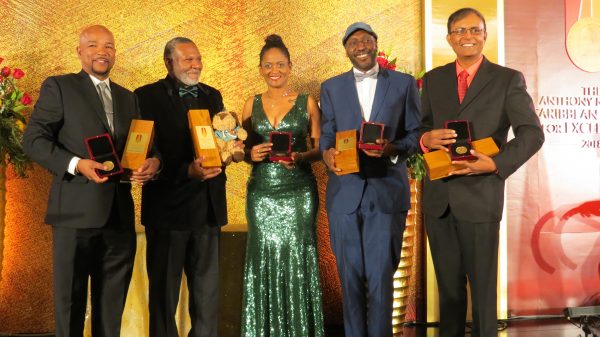 The release said that Miller, in accepting the award, spoke of his awakening as a writer in the pages of Trinidadian Earl Lovelace's novel, The Wine of Astonishment, where a preacher realised his duty to guide his flock, after their religion was criminalised by the colonial authorities. "I was born in 1996 in the pages of this novel," said Miller, which he said had shown him the duty of writers: to remind people of who they are.
In accepting the award, Trinidadian Chevaughn Joseph spoke of her foundation being her "mission from God," to bring comfort to sick and afflicted children.
Ramsubhag spoke of his journey from a rural agricultural village in south Trinidad to being a UWI geneticist. The release said that he is now on the verge of making breakthrough discoveries in novel pharmaceuticals, and new antibiotics. He urged that more emphasis be given to scientific research.
The release said that the programme was initiated by the late Trinidadian entrepreneur, Dr Anthony N Sabga in 2005. Laureates in the areas of arts and letters, entrepreneurship, science and technology, and public and civic contributions are given half-million TT dollars, a medal and citation. The winners are nominated by country committees and chosen by a regional panel chaired by Sir Shridath Ramphal, and containing representatives from all the territories covered: Jamaica, Guyana, Barbados, the OECS and Trinidad & Tobago.
A Norman Sabga, who succeeded his father as patron of the awards, is Chairman of the ANSA McAL Group of companies and the ANSA McAL Foundation, which hosts the ceremony. He spoke of the group's commitment to continue the initiative.
These inductions bring the number of people recognised by the ANSA Caribbean Awards for Excellence to 35. The ceremony was broadcast through the region, and streamed live via the Awards website, www.ansacaribbeanawards.com.
The ceremony also included a performance by Jamaican singer, Tessanne Chin, who rendered her song "Try".
Around the Web