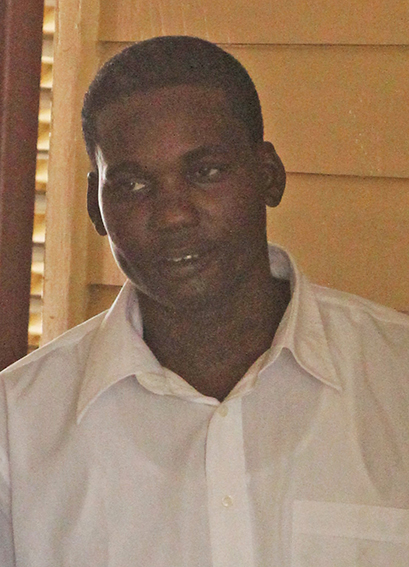 Renard Romain was yesterday morning sentenced to 10 years in jail for the unlawful killing of fellow miner Seibert Moore, whom he stabbed during an altercation on January 2,  2015.
Romain, 41, had been indicted for murder, but pleaded to the lesser offence of manslaughter.
The prosecution's facts, which were not disputed by the defence, stated that on the day in question, at the Empire Mining Camp, Upper Demerara River, the two were embroiled in an argument, during which the accused ran towards Moore with a knife.
State Counsel Mandel Moore said that Moore in turn armed himself with a piece of wood, with which he struck the accused.
The man, however, managed to stab Moore once to the left-side of his abdomen.
He died as a result of haemorrhage and shock due to the single stab wound to his abdomen.
In a mitigating plea, defence attorney Sonia Parag begged the court for lenience on behalf of her client, while adding that "he had suffered many days of torment" from Moore.
Noting that before the fateful day her client had never been violent towards the deceased, counsel described his actions of that day as a "momentary lapse of judgement," which resulted in the ultimate tragedy.
Counsel said that prior to his incarceration for the offence, Romain had ventured into the interior to seek employment in the mining industry after his house was destroyed by fire.
She said, too, that he was the sole breadwinner for his four minor children and has since had time to reflect on the price he now has to pay for the actions to which he resorted in that brief moment.
Noting that he had expressed remorse for the loss of life, Parag opined that her client can still constructively contribute to society.
Given a chance to speak, Romain begged on his own behalf for Justice Sandil Kissoon to be merciful on him, while adding that he was sorry for what had happened, and that he had never before had any brushes with the law.
Owing to the recent Caribbean Court of Justice (CCJ) ruling in the case of Teerath Persaud, Justice Kissoon said that the sentence for manslaughter had to commence at 25 years and not 30 as was being done in previous cases. (In its ruling, the CCJ found that the starting point of 30 years adopted by a Barbados judge in Persaud's case was too high and that she should have started at 25 years.)
From the 25-year base, Justice Kissoon made an automatic one-third deduction for the man's plea, leaving 16 years, seven months. From that total, an additional three years and four months were deducted for time Romain spent on remand awaiting trial.
From the remaining 13 years, three months, time was also deducted for counsel's plea in mitigation, as well as Romain's expression of remorse, acceptance of responsibility for his actions and his early plea.
Moore was 41 years old at the time of his death.
Around the Web