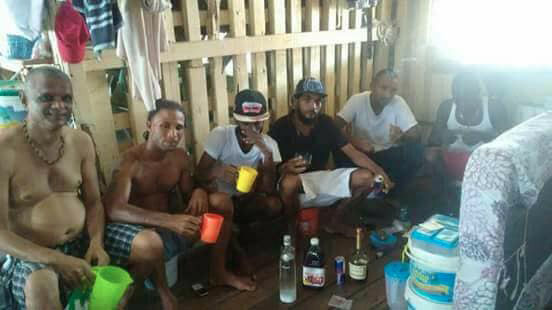 The Guyana Prison Authority has launched a probe of pictures of inmates at the New Amsterdam Prison having a grand party with bottles of expensive liquor, juice and energy drinks.
The photos surfaced on social media on Sunday afternoon.
Director of Prisons, Gladwin Samuels yesterday confirmed the investigation to Stabroek News.
This newspaper was told that investigators were speaking with the inmates and the prison officers at the prison as they continue to probe.
According to a source, it is being alleged by an inmate that the items were smuggled into the compound on the tractor that is used to pick up garbage. However, the source noted, that the driver of the tractor has since denied having any knowledge of the items.
The pictures showing the party were posted on Facebook on Sunday by Abdul Andre Azimullah, 34, a cattle farmer of Lot 183 Hampshire Village, who is on remand for the murder of Danian Jagdeo, a phone card distributor, who was shot and killed during a robbery on February 8, 2017 at Adventure Village, Corentyne.
The photographs show the inmates posing with bottles of Hennessy,  Ciroc, canned juices and energy drinks. Additionally, it was noticed in the pictures that the men were smoking.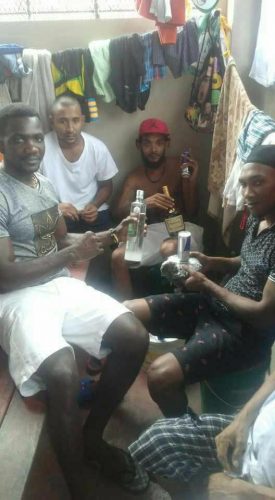 Also in the pictures are inmates who were charged with Azimullah in the Jagdeo murder. Two other inmates seen in the pictures are close friends of Azimullah who are on remand for kidnapping, assault and other charges.
Azimullah has since deactivated his Facebook account. He has always been active on social media while being in prison. The prison authority has promised to disclose the findings of the investigation to the media once the probe is completed.
In a statement yesterday, the Ministry of Public Security said that the mobile device which was used by the inmate has since been seized by the authorities and investigations into the matter are currently ongoing.
"The Ministry is extremely disappointed that alien objects and other material, inclusive of drugs and liquor, find their way into the various prisons as obviously happened here. There is no doubt collusion with prison wardens and prisoners which is causing this.
"This kind of misbehaviour by the culpable prison wardens will be dealt with very seriously after the ongoing investigations reveal who they are. The Public will be further advised on this matter after investigations concludes", the statement said.
This embarrassing episode will raise further questions about the security of the prisons system in the aftermath of major upheavals last year which saw the Camp Street prison being burnt to the ground and several prison escapes thereafter. In 2016, 17 prisoners died in a fire at the Camp Street jail.
These events put both the government and the Minister of Public Security, Khemraj Ramjattan under severe pressure. Major construction work is earmarked for the Mazaruni prison to ease overcrowding in the system and to improve security.
Around the Web