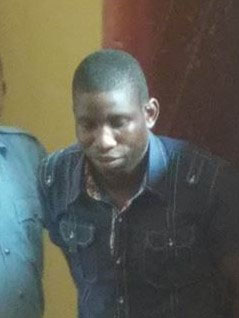 A police rank attached to the Tactical Services Unit (TSU) was yesterday fined a total of $250,000 after pleading guilty to dangerous driving and other traffic offences.
Appearing before Principal Magistrate Judy Latchman in Georgetown, Rawle Welcome, 25, admitted that on May 6th, 2018, on Vlissengen Road, he rode motorcycle CJ 1682 in a manner dangerous to the public.
Welcome, of 268 East Ruimveldt, also pleaded guilty to five other charges. He admitted that on the very date he rode motorcycle CJ 1682 while being an uncertified rider; without having a licence in force at the time; without a certificate of fitness being in force; without insurance; and without a helmet.
According to Police Prosecutor Arvin Moore, around 10.20 pm on the day in question, the defendant was going south on the Vlissengen Road when he attempted to overtake a vehicle, PWW 485, which was proceeding in the same direction.
In the process, the motorcycle collided into the right side rearview mirror of the other vehicle, resulting in Welcome losing control of the cycle and colliding into the rear of the vehicle. Moore went on to state that at the said time Welcome was carrying a pillion rider and they both fell onto the roadway and suffered injuries. Welcome and the pillion rider were taken to the Georgetown Public Hospital, where they were treated and discharged. The accident was reported to the Kitty Police Station and as a result of the investigations conducted the charges were brought against the lawman.
Prior to sentencing Welcome, Magistrate Latchman stated that she took into consideration his early guilty plea as well as Welcome's job, the prevalence of the offence, the injury of the pillion rider, and the fact that he should have known better.
Welcome was then fined $70,000 for the dangerous driving charge or a default sentence of six months in prison. As it relates to the charges of riding without certification, riding without a licence, riding without a certificate of fitness, and riding without insurance, he was fined $40,000 or a default sentence of 14 days in jail on each. He was also fined $20,000 or a default sentence of 14 days in jail for riding without a helmet.
Magistrate Latchman also warned Welcome not to commit such offences again.
Around the Web