Quick thinking by public-spirited citizens last evening thwarted an attempt by a taxi driver to flee the scene after he had struck down an elderly woman on Regent Street.
A crowd surrounded the taxi, HC 8888, after the driver was brought back to the scene where he had knocked down an elderly woman at around 6:30 pm, at the intersection of Regent and Wellington streets.
According to information reaching Stabroek News, the elderly woman was attempting to cross from the southern side of Regent Street when the car, a white Toyota 212, which was proceeding east along Regent Street, at a high rate of speed, struck her down.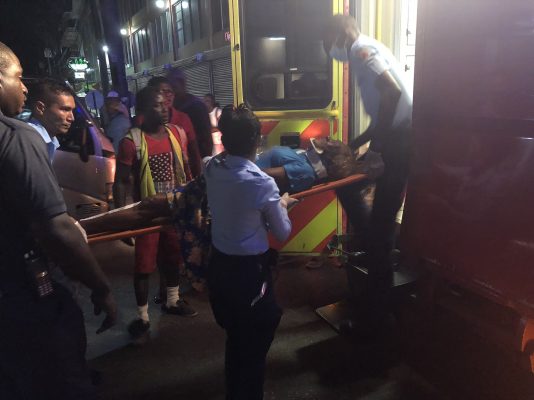 According to eyewitnesses, after the woman fell to the ground, the driver panicked and sped away towards Camp Street.
However, a bus driver noticed that the taxi driver was trying to escape, and raced behind him and intercepted the vehicle at the intersection of Camp and Regent streets.
"The bus man see what happen and he pick up with a speed too and rush behind he. Everybody run up to see what would've happened too. The bus man stop right in front of he and block he off so he can't drive away and jump out with a cutlass. I see they had some talking and like he convince the taxi man to come back cause that is what he do," an eyewitness said.
After the bus driver forced the taxi driver to return to the scene, a crowd of persons surrounded the car to prevent him from escaping again while the woman lay on the road.
The ambulance arrived shortly after and the woman was then rushed to the Georgetown Public Hospital where she is reportedly being treated for minor injuries.
During the wait for the ambulance and the police, the driver of the taxi refused to exit his vehicle and persons on the scene related that he was afraid he would've been attacked since he had attempted to drive away.
A van load of police arrived shortly after the ambulance and escorted the man to the Brickdam Police Station where he is assisting with the investigation.
Around the Web