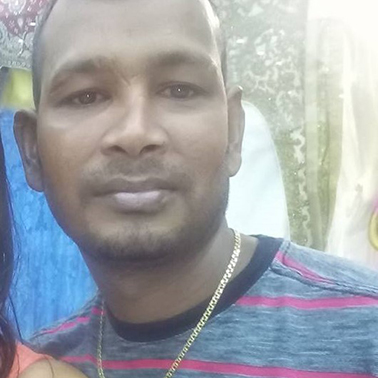 Four men have been arrested as police continue to probe the murder of fruit vendor Fareez Yassem, who was fatally stabbed during an apparent robbery at his Mahaica home on Monday.
Commander of 'C' Division Edmond Cooper yesterday told Stabroek News that one of the men was arrested shortly after the discovery of Yassem's body, while the other three were arrested between late Monday afternoon and Monday evening.
He said the men were being questioned up to yesterday afternoon.
Yassem, 36, a father of three of Lot 25 Belmont, Mahaica, East Coast Demerara, died early Monday morning after he was stabbed over a dozen times about his body during what appears to have been a robbery at his home.
The police had said that the attack occurred around 1.45am and Yassem body was found in a northern drain in his yard.
A police source had related to this newspaper that Yassem's death is being investigated as a robbery-murder.
A pair of slippers and a bicycle were recovered at the crime scene. The first suspect was reportedly taken into custody since he is the owner of the bicycle.
Farah Yassem, the eldest sister of the dead man, had related to Stabroek News that based on what she was told, Fareez's wife, Davie, and the couple's children were asleep when the attack occurred.
She said from all indications, her brother knew his attacker/s.
According to Farah, money from Sunday's sales was missing. She, however, also said although her brother was wearing several pieces of jewellery at the time of his death, they were all found intact.
Farah said while details surrounding her brother's death remain unclear, it is suspected that he ventured to the lower flat of his house to use the washroom.
While there, she believes he must have heard a strange noise and investigated and was then stabbed.
 "All she (Davie) hear him saying was 'Ow bai! Ow bai!'" Farah said.
Davie had subsequently called her neighbour, Onika Wilson, for assistance to find her husband.
Wilson explained to Stabroek News yesterday that she received a call from Davie, who told her that she was calling out for Yassem but was not getting any answer. 
She said as a result, she woke her husband and they both went into their yard and watched over Davie, who she told to check for Fareez in the yard.  "We stand up right hay suh (in their yard) so she wouldn't be so frighten. So I call for her and I tell she come by the door and call for he (Fareez) and when she call fuh he, she seh she aint getting no responses", she explained.
She said it was then that Davie made the discovery. Fareez was already dead.
An autopsy is scheduled to be conducted on Yassem's remains today.
Around the Web