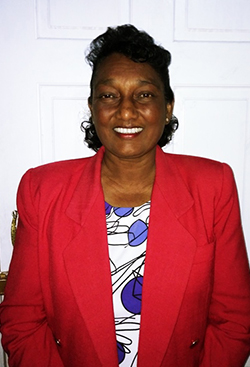 Chief Nursing Officer (CNO) of the Ministry of Public Health, Taramattie Persaud-Barker is retiring after having given 31 years of service to the nursing profession. She is due to retire on July 1, 2018, according to a release from the Department of Public Information (DPI).
Barker, who is on pre-retirement leave, serves as the Chair-person of the Guyana Nursing Council and as Commissioner of the National Commission for the Prevention and Control of Non-Communicable Diseases. 
Persaud-Barker began her professional nursing career at the Georgetown School of Nursing on September 17, 1984. She graduated in 1987 as a Registered Nurse and was then employed by the Ministry of Health, working at the Georgetown Public Hospital Corporation (GPHC).
She later pursued post-graduate training in Mental Health and in Midwifery. Thereafter, she was recognised as a trained Registered Nurse/Midwife. Barker gained her first out-of-the-city work experience in Santa (Aratack) Mission, in September 1991.
"It was indeed a new experience for me, to be working in a community with limited access to communication, electricity, running water through taps, and transportation…within two years there were solar electricity for lights and a solar refrigerator to store vaccines. The refrigerator was donated and set up by a Dutch company, through the years of collaboration with the community," Persaud-Barker told DPI.
She remained in the indigenous community until 1998. Barker said her experience working in the Santa Mission caused her to develop a passion for addressing public health issues in these remote areas.
Around the Web