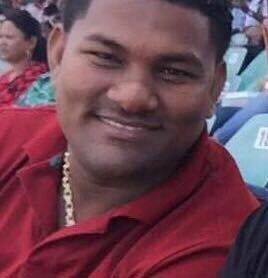 Controversial former Head of the SWAT Unit, Motie Dookie, who was posted to the Police 'A' Division one week ago following his return from annual leave amidst a probe into whisky smuggling, has been reassigned to Police Headquarters, Eve Leary.
Stabroek News understands that Acting Commissioner of Police and Crime Chief Paul Williams attended a high-level meeting on Tuesday where a decision was made to have Dookie removed from 'A' Division and placed at the Force Control Unit, Eve Leary.
Dookie's placement is said to be temporary until a further decision is made about his future within the profession.
Several efforts made by this newspaper yesterday to contact Williams and Divisional Commander Leslie James for a comment proved fruitless.
Dookie was accused of smuggling 30 cases of whisky in December last year. Sources say that concerns had been raised that his being placed in `A' Division would send a bad signal.
Last Wednesday, Stabroek News had reported that Dookie was posted to the Police 'A' Division where he was serving as the No. 2 Sub Divisional Officer following his returned from annual leave.
The then Commissioner of Police (ag) David Ramnarine had confirmed this and told reporters that Dookie could not find himself anymore "within four walls" since at this point in time, some five to seven senior officers, ranking from Superintendents up are currently on "long" annual vacational leave .
He had said the leave has been accumulated for a number of years and with a "change of policy" in terms of payment for leave they had to proceed on their annual vacation.
Additionally, Ramnarine had said that over the last two and half years, the Guyana Police Force would have also seen some 15 senior officers from the ranks of Superintendents to Assistant Commissioners exiting.
As such, he said, "Dookie being a Deputy Superintendent of Police … in the circumstances which the force has to be superintended on a daily basis couldn't find himself anymore within four walls".
He said that the processes which are available to the police administration in relation to the conduct of Dookie were adhered to. "He is entitled to due process. A part has been completed", he said.
This newspaper understands that concerns were also expressed about these comments made by Ramnarine.
Ramnarine had additionally said that departmental charges were recommended against Dookie but due to the absence of the Police Service Commission those could not have been instituted.
However, he noted that legal advice has been furnished and the file was transmitted to the secretary of the Police Service Commission and when a new commission is appointed, another course of action may follow.
Stabroek News was reliably informed that Dookie will only face disciplinary charges as the driver of the minibus in which the discovery was made has since taken full responsibility for the act.
Dookie was expected to be charged with breach of discipline under the Police Discipline Act, Chapter 17:01.
This aspect of the matter was being dealt with by the Guyana Revenue Authority, this newspaper was previously told.
Dookie was posted to 'A' Division after he returned from his annual leave which he had proceeded on during mid-January.
He was travelling in a minibus along the Whim Public Road, Corentyne, on December 30th, last year when it was stopped by a police anti-crime patrol and the 30 cases of whisky were found aboard.
At the time, Dookie and the driver of the minibus were the only occupants of the vehicle.
He was also on duty but failed to seek permission from his commanding officer to leave his location.
Following the discovery, Dookie was relieved of his duties as the commander of the SWAT Unit and was temporarily transferred to the force's Strategic Planning Unit.
Minister of Public Security Khemraj Ramjattan had publicly said that Dookie should be dismissed from the force for misconduct.
Around the Web