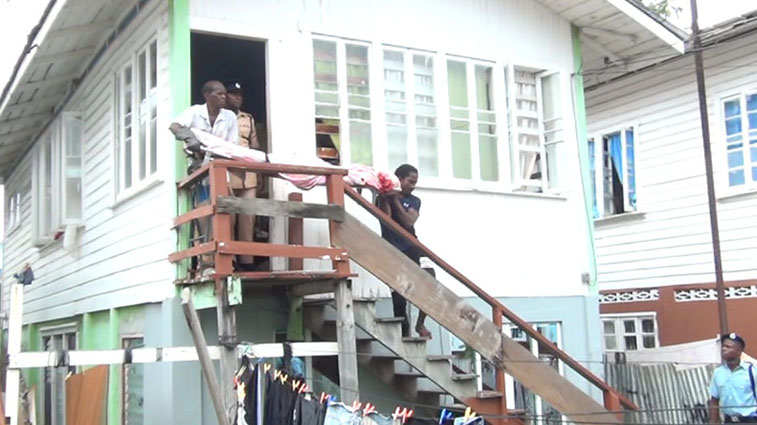 Two suspected bandits were killed yesterday after an attempt to rob a city storeowner.
The dead men have been identified as Trevor Barrow, 26, called 'Buddha,' of 1010 Norton Street and Cemetery Road, and Calvin Edwards, also known as Calvin Dover, 27, of Lot PP 6 Bent Street, Wortmanville, who police say attacked the owner of Les Variety Store at 22, D'Urban and Hardina streets, Wortmanville, Georgetown.
Barrow was fatally shot inside the store by owner Roy Myers, acting Police Commissioner Paul Williams said yesterday. Edwards, meanwhile, was later shot and killed by police during a standoff in a house along Bent Street, where he allegedly sought refuge after managing to escape from the scene of the robbery.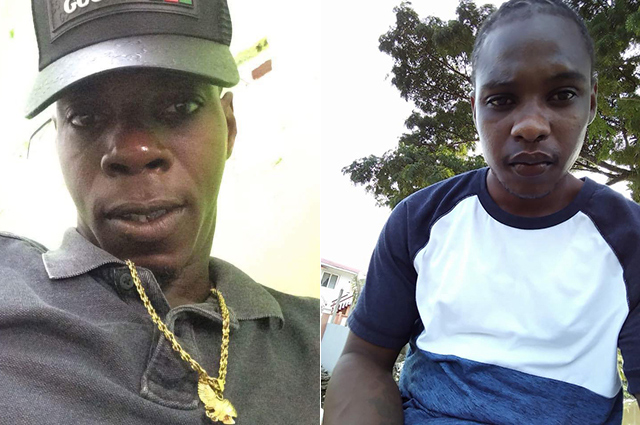 Myers told investigators that he was packing goods in his store when he felt a gun pressed against his head and a man ordered him to hand over the gold and diamond jewellery he was wearing at the time.
Stabroek News was told that the man explained that as he was taking off his jewellery, there was a loud explosion outside of the store, which prompted Edwards, who was holding him at gunpoint, to run outside, while Barrow continued to try to relieve him of his valuables.
As a result, a scuffle ensued and Barrow reportedly pulled out a revolver and attempted to fire on the businessman but the weapon did not go off.
Myers, a licensed firearm holder, then retrieved his own weapon from an ankle holster and discharged several rounds, hitting Barrow.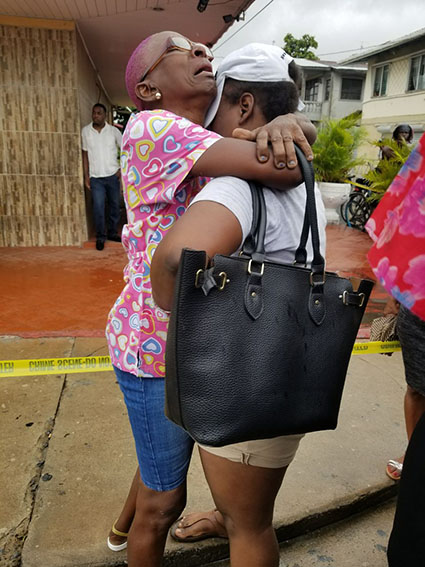 An eyewitness told investigators that as she was sheltering from the rain at the store, she saw the businessman being attacked and informed the police on a patrol in the area.
Witnesses told Stabroek News that as the robbers were in the store, police were refilling water at a nearby business and a patrol vehicle was passing. Both groups of policemen responded after they were alerted to what was happening.
Standoff
As the police approached the store, Edwards ran out and discharged several rounds at them and the ranks returned fire. It was during the crossfire that Edwards was shot to his leg.
He nevertheless managed to flee the scene, with the police in pursuit. He was found almost two hours later in a house along Bent Street, where there was another exchange of gunfire.
"Based on the information police would have received, they pursued him. There was some amount of standoff in the house where we found him and where he sought refuge. The police would have waited for some time and then made an effort to go and get him. He discharged rounds at the police and they returned fire," Williams said.
The police, Stabroek News was told, managed to track Edwards from the trail of blood he left in his wake.
A witness told Stabroek News that she was about leave her home when she "see a man running and police running behind and I hear shots firing."
The woman stated further that after sometime, she went out on the road and upon returning she saw heavy police presence as a search was being carried out. She explained that not long after gunshots rang out in the area for a second time. She later saw the police escorting her neighbour's 13-year-old daughter into their van as she cried out, "Y'all don't kill meh father! Y'all don't do he nothing."
The father and his 13-year-old daughter who were at home when Edwards entered the Bent Street house were taken by police for questioning.
A pistol was reported to have been found next to Edwards.
Asked if any of the deceased men were known to the police, Williams explained that since he took up the position as Crime Chief, Edwards' name had come up during investigations.
Gun stolen in robbery
Police said at the time of the robbery, Barrow was armed with a .38 Rossi revolver and two live matching rounds, while Edwards was armed with a Glock pistol and 10 live rounds.
The gun and ammunition found on Edwards, this newspaper was told, matched the one stolen from a security guard attached to KGM Security Services in an early morning attack yesterday. Two Chinese nationals were also said to have been robbed in the attack.
Information gathered from persons in the vicinity of the store revealed that the men were seen riding around the area.
"All morning I see these men riding around and we who were out here noticed them. And we tried to call 911 but nobody answer that. These boys were riding around this corner here," an eyewitness related.
Meanwhile, relatives  of the two men broke down into tears after arriving at the respective scenes of their deaths.
An aunt of Barrow blamed his friends for his demise.
"When people talk to you, you don't hear… Today was it. This is the end of you Buddha! Buddha! This is the end of you," she wailed.
Members of Barrow's family were tight-lipped about his character, while Edwards's relatives voiced their belief that the manner in which he was killed was unwarranted.
 "You go a catch a man in a house, why you go and shoot him up for? He is unarmed! You shoot him up in his head… people see he surrender," an uncle said, while stressing that the police should have arrested his nephew and taken him to court to face the law.
Around the Web