Minister of Natural Resources, Raphael Trotman yesterday said that the award of 600 oil blocks to ExxonMobil's subsidiary, Esso Exploration and Production Guyana Limited (EEPGL), in 1999 was legal and the government would not be clawing back any as it was vital to border security that the US company retain control of the entire stretch.
Addressing the National Assembly's Sectoral Committee on Natural Resources, Trotman also said it would be the last time he would be answering questions on petroleum issues as he has given up responsibility for the sector.
Trotman's referencing of border security was the first time since oil was discovered here in 2015 that a senior government official has publicly stated that the award of 600 blocks was a strategic move to blunt any possible aggression from neighbouring Venezuela. The usual maximum number of blocks that should be assigned is 60 and questions have persisted in recent years as to why the 1999 Janet Jagan administration awarded more than 10 times this amount to the US oil giant's subsidiary.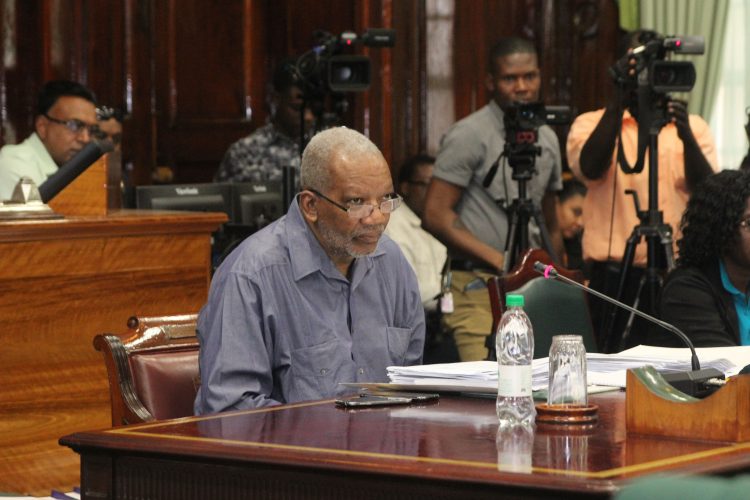 Trotman told the bipartisan committee that the law provides for the  minister to give more than 60 oil blocks and his  government is not at this time keen on  taking away any of EEPGL's current 600 blocks  as the allocation remains vital for border reasons . 
"We have also kept the acreage. I see much writing about it being illegal…[I] wish to point out to you the law does allow for the minister with responsibility, Section 13 of the Petroleum regulations [say that] the minister may consider any application in respect of more than 60 blocks, where the minister is satisfied that special circumstances exists for doing so," Trotman said.
"Circumstances so existed in 1999 when the then [PPP/C] government saw it fit to give. Certainly, we believe that those circumstances have not diminished in 2016. We believe it continues to be strategically sound that the Exxon blocks remain intact as it was in 1999…It was not happenstance; it was deliberate to cover the sea space tip-to-tip and that company will be an American company," he added.
Asked by Chairman of the Committee, PPP/C MP Odinga Lumumba, who initiated the decision to make changes to the 1999 Production Sharing Agreement (PSA) with EEPGL, Trotman replied, "The Government of Guyana, sir,"
"Why did you do that, in national security interest?" Lumumba questioned.
 Trotman replied, "That is so, sir.
"Not in economic interest?" Lumumba asked.
To the Chairman's question Trotman answered, "No sir, because we are already going to earn at 3.2 billion barrels some 50% of that and if one may multiply…you would be in the realm of US$300 billion and Guyana would get half of that. We wanted to anchor Exxon to let them know we are serious…we wanted to work with a company with international gravitas and strength, financially and politically to represent us in the international arena."
He would add that while there is a relinquishment clause in the agreement, he believes that while Exxon's release of a certain amount of blocks and the acreage towards the North West is catered for, the company should be allowed to keep them for strategic reasons as they are the only company to demonstrate boldness by working in that area. 
Fundamental
Lumumba was not convinced by Trotman's defence and asked if government would allow it if another company signaled that it too was not afraid of Venezuela's threats and was willing to work in the area.
"If I may be allowed to give an explanation. Our reasons are dual they are both economic and strategic but there are only I believe two companies in the world that are prepared to venture in the North West area. If other companies want to partner with Exxon, we would not interfere," Trotman stated.
He was interrupted by the Chairman. "I am dealing specifically with the fundamental issue that you said that they did not relinquish the additional blocks was because of national security interest. I am saying Exxon and the Government of Guyana can keep the national security interest but they can benefit economically if another company … says, 'I want to be a part of the equation'…would you have a problem with that?" Lumumba asked.
"No," Trotman said. 
Using a PowerPoint presentation as he reviewed the petroleum sector since his APNU+AFC government took office in 2015, the minister said that it was "important to go back in time" so that the public, especially Guyana's citizenry, understands the historical, economic and strategic contexts  involved in government's decision making.
And in going back to the genesis of the agreement with EEPGL, he reminded that it was the former ruling party, the PPP/C that had signed to the agreement for the acreage given. 
In 2016, when the APNU+AFC government renegotiated the PSA with EEPGL, it did not address the issue of the 600 blocks and in this respect left the PSA as it was in 1999.
The block allocation has resulted in many criticisms of both governments, with the current administration feeling the brunt of it for not correcting in 2016 what many see as an illegality.
Government has defended its actions in not reclaiming the areas, saying that it was strategic then and remains the same but has never provided details.
"Much, if not all, of our decision-making was informed on what was happening in the West," Trotman said.
"What many Guyanese were not aware of was on the very day the President was sworn into office (May 16, 2015), Venezuela issued a decree which claimed for the first time the sea space off the coast of Guyana …we needed a partner to cover the entire sea space. Beal (Aerospace), did not make it through, Exxon did…," he added.
'Start picking'
Comparing the 1999 agreement and the 2016 renegotiated agreement, Trotman said that his government had two preeminent objectives when it signed and that was to ensure production in the fastest possible time and that it "needed to protect our resource to say this is ours".
He pointed out that there had been no breach of the 1999 Agreement by either party nor had it expired. Therefore, he said that he could not blame Exxon if they did not want any modifications "because they are in their right to say that they were sticking to the terms" and this country, if it went a forceful route, could have seen itself "in a court of arbitration."
"Guyana did not have a legal case to say it wants a new and vastly different agreement," he added.
The controversial US$18 million signature bonus received from Exxon also came in for questioning as Trotman said that it was devised by government to pay the legal fees for Guyana's current case at the International Court of Justice, where it is asking for a juridical settlement of the border controversy with Venezuela.
"This [US] $18 million signing bonus… was there an equation used? How did the number come up? Did you put your hand in a bag?" the Chairman queried.
Trotman's response was that "government had the benefit of advisors" who indicated that US$15 million was a fair figure.
The remaining US$3 million, he told PPP/C MP Neendkumar, who queried its purpose and spending, is currently being looked at for capacity building and educational programmes, especially in agriculture, for youths across the country. "The [US] $3 million, it is under discussion. We are to decide how we will use the money so that young people from all administrative regions benefits," Trotman said. He noted that once the money is earmarked and projects found, "it will be passed though the Consolidated fund."
Of interest was the Chairman's refusal to allow the minister to give to the committee a list of local companies that Exxon has used here as he argued that it was "Exxon's business."
Trotman said that government, as part of its monitoring of the local content, has a list and he agreed to share it with the committee.  He later told reporters that he would share the list with the media after supplying the committee with it.
On the issue of local content, the Chairman asked that government work out measures to ensure that locals are not only employees of foreign companies in the service areas but a way be found that they can also own or benefit through shares or other financial means in oil and gas production companies.
Around the Web