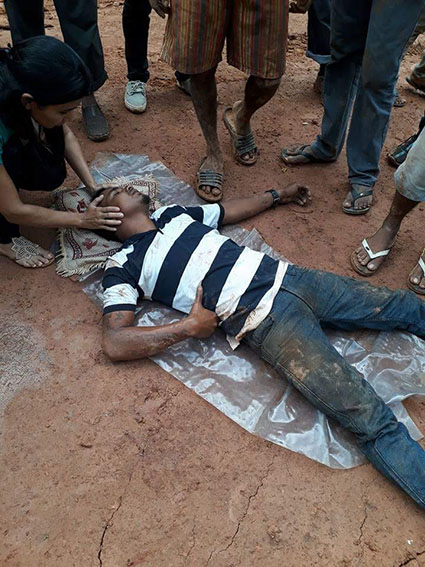 A driver escaped almost certain death along the Linden-Lethem Trail on Friday when his truck toppled into a ravine close to the Kurupukari Crossing.
The accident occurred while the driver of the truck, bearing licence plate GWW 5832, attempted to cross a bridge known as Christmas Bridge.
It was during his attempt that the lumber-laden truck toppled sideways into the ravine, forcing the driver to jump out of the truck's cabin to escape.
Sunday Stabroek was unable to identify the driver but was told that he sustained injuries to his back and required medical attention.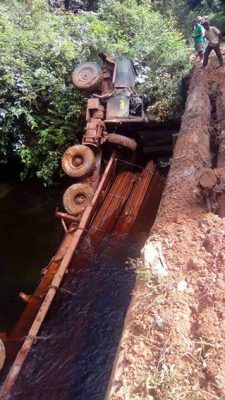 The accident was documented in pictures and videos that were shared on social media, which prompted calls for government to look into the rehabilitation of the trail, especially since the rainy season has reduced it to slush.
One driver who spoke with Sunday Stabroek shared his frustration at having to traverse the road, saying that he like many others feels "the pressure" almost every time he sets out to use it.
He identified the area where the Christmas Bridge and the Fair View Hill are located as a trouble spot since many buses have found themselves stuck, while attempting to manoeuvre along the road.
He further explained that it has gotten so bad that the Fair View Village truck is being offered for towing services to drivers who would have gotten stuck in the slush. Those who are not as fortunate to benefit from the tow truck service, sometimes spend hours digging their buses out of the slush.
The towing service, the driver said, comes at a cost of $2,000, which is an addition to the already long list of expenses drivers incur while having to deal with the current state of the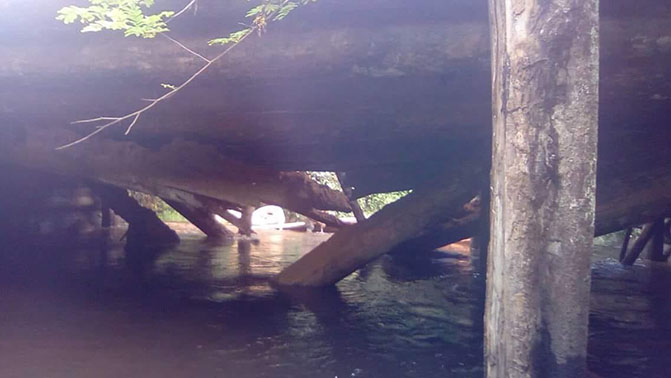 road.
Calls have also been made for some kind of intervention to be made regarding heavy duty trucks traversing the trails, since according to some, they continue to contribute to its destruction.
Similar calls have been made over the years, particularly during the rainy season, when the deterioration of the road results in what is usually a 12-hour-long journey taking 20 hours or more.
President David Granger, during a state visit to Brazil in December, 2017 had signed a Complementary Agreement to the Memorandum of Understanding between the two countries which creates the "Guyana-Brazil Joint Commission to Develop Infrastructure Projects." The construction of the long-awaited Linden-Lethem road is said to be one of the key projects under this agreement.
The Department of Public Information, in a report, had quoted Granger as having said that for decades both sides envisaged a route through Guyana, which will offer better development prospects for investors to come from the Caribbean into Brazil and from Brazil into the Caribbean.
Around the Web